Online education is here to stay and there are good reasons why.
---
Brilliance is what the online education business model has brought our way.
If you're tempted to think e-learning is a sham, think again. Especially with the ever-climbing revenue accrued on a monthly/yearly basis. As of today, E-learning's current market value is over $190 billion and by 2025, the latest study by Global Market Insights estimates the market value to grow to over $300 billion.
Why is This So?
It's not that people don't want to learn; traditional learning systems are just too expensive!
Hence, the current surge in demand for cost-effective training and learning in all sectors, and at an individualized pace too.
Besides, in each sector, the amount of relevant content continues to rise making it increasingly difficult to keep tabs on it in physical libraries or stores. Keeping it in electronic media is an ingenious way of managing these vast resources and disseminating them in real-time across user interfaces.
The Use of Cloud-Based Platforms
Cloud-based learning platforms are increasingly being adopted in the online education business.
This is helpful and is one of the core reasons the market continues to rise at an impressive rate. These cloud-based platforms provide flexibility in the storage, accessibility and processing of content by users.
Major reasons for which users increasingly patronize cloud learning platform are data backup, cost-effectiveness and the security it affords. All of this is backed by the ease of content delivery which cloud technology offers!
As more young people get used to the advent of mobile platforms and the Internet, it only makes sense to utilize the cloud to help them easily access content and compare with other content on the net (instead of opening several books just to get certain information).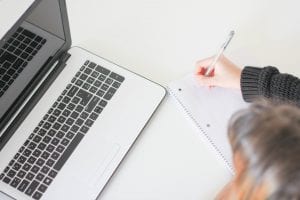 Smartphone users, with the aid of recent apps, can gain insight into several different topics in real-time, and up-to-date universities are developing their own mobile-based applications for their students. This way, learners can log in to the student portal, enabling them to gain access to even missed lectures. You see, learning is no longer about how hard you can work, but how smart you can work.
In corporate sectors, some of the major mobile applications in use are Udemy, DesignJot, and BoostHQ.
An Overview of the E-Learning Market (and the Factors Propelling It)
The impressive growth in the usage of technology in academic institutions across the globe has propelled the e-learning market forward. For instance, it makes it easier to pay someone to do my homework, especially if I have other pressing responsibilities.
The academic sector accounted for over 50 per cent of the global e-learning industry share in 2018; and with the surge in awareness about education and the adoption of modern solutions in universities and colleges, the literacy rate continues to grow.
Lots of education centers provide digitized platforms for learning and interaction which offer deeper and clearer insights into all academic courses, and this does wonders in terms of depth of understanding of students, and further impacts on their societal input. It's also pretty liberating for teachers, who are able to, with time limits and distractions eliminated whilst teaching a virtual audience, teach in more practical terms while employing the aid of interactive media such as pictures and videos. 
Online Education in the Corporate World
Corporate sectors are also beginning to get the hang of the use of online educational materials to train their employees, further boosting market capital. It has been discovered that when employees are trained at their own pace, there is higher productivity.
Wrapping Up
E-learning has come to stay. Knowing how it works, and employing it in your favor is one of the smart things to do in this century.