Irene Lopez-Flores's father paid $1,500 to bail her out of Douglas County's jail–but deputies made sure she couldn't be released until immigration officers arrived.
---
Immigration advocates are suing an Oregon county for cooperating with federal immigration officials.
According to OBP, the complaint was filed by the Oregon Law Center. The suit centers around the deportation of Irene Lopez-Flores, who was arrested in 2017.
Held on charges of theft and computer crime, Lopez-Flores had her bail set at $1,500. While her father, Daniel Lopez, quickly collected the money for Douglas County, deputies received a detainer request from the U.S. Immigration and Customs Enforcement agency.
I.C.E., says the lawsuit, asked Douglas County deputies to hold Lopez-Flores for no more than 48 hours. Within that time-frame, I.C.E. agents hoped to take Lopez-Flores into their custody and deport her to Mexico.
However, Douglas County had already accepted Lopez's payment of $1,500. But deputies refused to release his daughter for another two hours, giving I.C.E. enough time to take the woman into federal custody.
"After Defendant was arrested, Mr. Lopez asked the release office if there was a federal immigration hold placed on Defendant," attorneys wrote in a filing. "He was told there was not."
Lopez, adds OregonLive.com, maintains he wouldn't have bothered paying bail if he knew that his daughter was in the process of being handed over to federal authorities. Nonetheless, Lopez-Flores was purportedly handed over to I.C.E. after deputies had told her father that she was being readied for release.
She was subsequently deported to Mexico.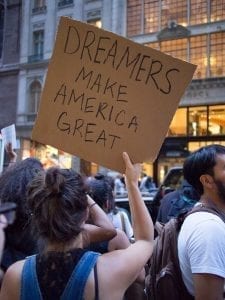 The lawsuit claims the transfer of custody constitutes unlawful arrest—and possibly a violation of her Fourth Amendment rights.
"Douglas County and [Sheriff] John Hanlin have a practice of seizing and detaining persons at the request of [I.C.E.], regardless of whether they have probable cause to believe those persons have committed a crime or are subject to a judicial warrant for their arrest," says the suit.
Earlier rulings out of Oregon suggest the practice is, in fact, illegal. In 2014, a federal magistrate judge in Clackmas County suggested that jails and deputies cannot detain an individual—or continue detaining one—due to a person's immigration status alone.
The Oregon Law Center was involved in similar litigation in 2017, when it sued the Northern Oregon Regional Corrections Facilities on behalf of Javier Esquivez Maldonado.
Maldonado, reports OregonLive, was held at NORCOR for 19 hours so I.C.E. could remand him into their custody. However, a judge had specifically ordered that the man, charged with a misdemeanor, be booked into NORCOR and subsequently released.
Maldonado settled his case last April, winning $40,000 and forcing NORCOR to change its migrant detention policies.
Sources
Douglas County Sheriff's Office Sued For Allegedly Aiding Immigration Authorities
Oregon sheriff violated federal law by holding woman in jail solely on immigration detainer, suit alleges
Woman sues sheriff of Douglas County, Oregon, over immigration detainer