Pagliacci Pizza and more than a thousand delivery drivers recently agreed to settle a wage dispute lawsuit for $3.75 million.
---
A class-action lawsuit settlement was recently announced regarding more than 1,000 current and former delivery drivers and Pagliacci Pizza. The wage dispute lawsuit settled for $3.75 million and will resolve claims involving "wages, tips, breaks and mileage reimbursement." King County Superior Court Judge Catherine Shaffer oversaw the settlement talks and gave the agreement preliminary approval. A final hearing is scheduled for July 16, according to Toby Marshall, the attorney representing former Pagliacci Pizza driver Steven Burnett. Assuming the agreement is finalized on July 16, the delivery drivers involved in the lawsuit can expect to receive payment in September.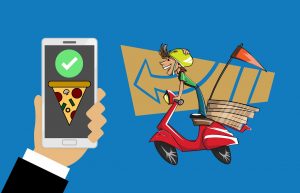 There are 1,012 current and former drivers included in the lawsuit and they have until "June 15 to exclude themselves from the class, if they choose, but don't have to take any action to receive a payment." According to Marshall, "A 25% share of the settlement will pay for attorneys' fees and expenses, with the drivers each receiving an average payout of $2,776, though the highest award will be just over $25,000." Marshall added:
"Pagliacci Pizza and its attorneys took a very hard line that they didn't do anything wrong…Our hope is this is going to be a wake-up call to treat their drivers appropriately under the law."
What happened, though? Why was the lawsuit filed in the first place? Well, according to the suit, the company "failed to follow state statute for a roughly six-month period in which customers weren't notified on receipts or menus that no portion of a then $3 delivery fee went to its drivers." The company has since rectified that issue.
Additionally, the suit alleged that "drivers were required to pool their tips, which were then split with kitchen staff." However, that particular rule is no longer mandatory. Instead, "drivers can voluntarily select a dollar amount or percentage of a tip to share with the kitchen." Employee surveys are also now routinely conducted "to ensure staff is properly paid for the hours they work."
According to the company, "Pagliacci delivery drivers earn $33 an hour, on average, in wages and tips." On top of that, "the company provides health care and a 401K match." These benefits are not typically available in the restaurant industry for delivery drivers.
The company decided to agree to the settlement as a way to move forward after almost four years of litigation. Initially, the company pushed for arbitration and argued that a "brief mention about arbitration in an employee handbook barred Burnett from suing in Superior Court." The trial judge denied the motion to compel arbitration and Pagliacci appealed up to the state Supreme Court. In August 2020, the Supreme Court upheld the lower court's ruling and determined "Pagliacci's arbitration clause was unenforceable on numerous grounds."
From there, the parties agreed to mediation and negotiated the terms of the settlement agreement in January. Of the settlement funds, "44% will go toward paying damages based on the number of deliveries each driver made between December 2016 and August 2017…another 21% will pay mileage reimbursement damages; 17% of the settlement will go toward tip-pooling damages; 9.5% for missed breaks; and 7.5% will be allocated for credit-card processing fees that were deducted from drivers' tips" according to court documents. 
Sources:
Pagliacci Pizza to pay $3.75 million to settle delivery drivers' class-action lawsuit
After long court battle over $3 fee, Pagliacci settles $3.75M wage theft lawsuit with drivers