A commission charged with investigating last year's mass shooting in Parkland, Florida recommends that teachers who volunteer to undergo training be allowed to carry firearms in schools.
The Guardian reports that the state-appointed, 15-member Marjory Stoneman Douglas high school public safety commission unanimously approved the 446-page report. Included within was a recommendation to arm teachers, as well as others meant to "harden" schools as potential targets.
Other changes, writes the Guardian, include installing classroom doors that can be locked from the inside, enhanced lockdown training for teachers and the installation of bulletproof glass in all schools by the end of 2025.
The report also recounted policy failures which enabled suspected shooter Nikolas Cruz to enter the school and begin killing uncontested. It claims that many Florida school districts and campuses have been slow to react to Parkland, failing to complete mandated reviews of safety plans and procedures.
"Safety and security accountability is lacking in schools, and that accountability is paramount for effective change if we expect a different result in the future than what occurred at Marjory Stoneman Douglas," the report says.
Arming teachers is perhaps the most controversial suggestion to arise from the February 2018 massacre. Championed as a possible solution by President Donald Trump, the notion was opposed by outgoing Florida Gov. Rick Scott.
Scott eventually signed off on an proposal that would permit teachers to carry firearms on the job, and the commission's verdict will likely bolster right-wing appeals to stop gun violence in schools by putting more weapons inside them.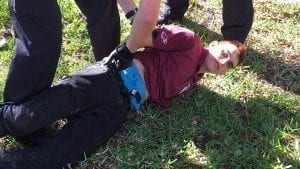 The decision, which won't be enacted without approval from the state legislature and governor, angered gun control advocates and students alike.
"As a student attending a school in Florida, I am appalled that the commission that was established to make schools in our state safer is recommending teachers carry guns," said Juliana Simone Carrasco, a volunteer with Students Demand Action.
In another statement released by Everytown for Gun Safety, Carrasco said, "I don't want my teachers to be armed, I want my elected leaders to pass policies to keep guns out of the hands of people with dangerous intentions to begin with."
Gay Valimont, a volunteer leader with Florida's chapter of Moms Demand Actions for Gun Sense in America, said giving teachers guns isn't a practical fix to any problem.
"There is no evidence that arming teachers makes kids safe," Valimont said. "Our children deserve real solutions to keep them safe from gun violence—like a criminal background check on every gun sale—not policies that will put them at even higher risk." A
Along with sanctioning firearms for educators, the report attacked the Broward County Sheriff's Department, saying its active shooter policy was "insufficient" and "inconsistent with current and standard law enforcement practice."
The Sheriff's Department was criticized after a nearby deputy opted to seek cover and call for backup after hearing gunshots inside Marjory Stoneman Douglas High, instead of rushing to confront Cruz.
The report, notes the Guardian, demands the sheriff's office "make it unequivocally clear that deputies are expected to immediately seek out an active assailant and that 'containment' is not the policy."
Sources
Gov. Rick Scott opposes arming Florida school teachers
Parkland commission OKs recommendation to arm teachers in Florida
Parkland commission recommends teachers be allowed to carry guns