Former Broward County Deputy Scot Peterson faces up to 11 charges.
---
A former sheriff's deputy who stayed outside Marjory Stoneman Douglas High School during a 2018 shooting in Parkland, Florida, is now facing criminal charges.
According to The New York Times, the indictment of former Broward County sheriff's deputy Scot Peterson is the 'latest in a series of actions' designed to hold law enforcement responsible for a lackluster response to the mass shooting.
Peterson, who was taken into custody Tuesday, faces 11 counts of neglect of a child, culpable negligence and perjury.
The former deputy was assigned a resource officer at Marjory Stoneman Douglas High. While Peterson called in shots fired, he waited for back-up before attempting to enter the school and face gunman Nikolas Cruz.
Cruz—a former student at the high school—killed 17 students and faculty before being taken into custody.
While Peterson maintained that he couldn't tell where the sound of gunfire was coming from, his response garnered significant criticism. Shortly after the shooting, President Donald Trump went so far as to call the long-time deputy a "coward."
Peterson's role in enabling the massacre by standing aside is alleged by a Florida Department of Law Enforcement investigation.
"The F.D.L.E. investigation shows former Deputy Peterson did absolutely nothing to mitigate the M.S.D. shooting that killed 17 children, teachers and staff and injured 17 others," department commissioner Rick Swearingen said in a statement. "There can be no excuse for his complete inaction and no question that his inaction cost lives."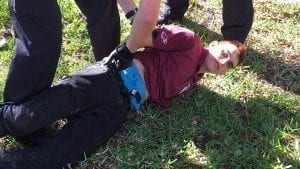 The Broward County Sheriff's Department has also condemned Peterson's lack of action.
Former County Sheriff Scott Israel said he was essentially sickened by footage of the incident, which shows Peterson remaining outside the high school for four minutes, even as Cruz continued shooting students inside.
The BBC notes that the entire shooting sequence only lasted for six minutes.
"I am devastated," Israel said in a statement. "Sick to my stomach. He never went in." Israel, adds the BBC, said that Peterson should've "killed the killer."
The Times observes that the backlash, while not unprecedented, certainly isn't the norm. Although civil lawsuits are often filed in the aftermath of mass shootings, it's rare for members of law enforcement to face charges for inaction or improper action.
"This is the first time I have seen somebody so charged like this," former FBI profiler and mass shooting expert Clinton R. Van Zandt told the Times. "I think that every police officer, sheriff and FBI agent understands that you have to go to the threat and stop it and that we are no longer going to wait for SWAT or set up perimeters."
The Times reports that the Parkland shooting prompted significant reform, as it occurred during the middle of the Florida legislature's annual session.
Sources
Deputy Who Stayed Outside During Parkland School Shooting Faces Criminal Charges
Florida school shooting: Parkland officer arrested over inaction
Parkland: former police deputy arrested over failure to confront school shooter