The lawsuit was filed after an off-duty Alaska Airlines captain riding in the cockpit jump-seat announced that he was "not okay" before trying to deactivate the engines.
---
Passengers who were aboard a flight scheduled from Everett to San Francisco in October have filed a lawsuit against Alaska Airlines and Horizon Air, both of which they claim endangered travelers by letting a mentally ill, off-duty pilot ride in the cockpit.
Midway through the October 22nd flight, the pilot—identified as off-duty Alaska Airlines captain Joe Emerson—attempted to seize control of the plane, trying to deactivate its engines before being restrained by other staff.
In a lawsuit filed earlier this week, though, Seattle-based law firm Koehler Moore claims that Alaska Airlines and Horizon Air are liable for damages for psychological injury and emotional and physical distress to passengers.
The airlines, attorneys say, failed to "conduct reasonable examinations, including but not limited to specific questioning and focused observation" of flight crew and employees with cockpit access.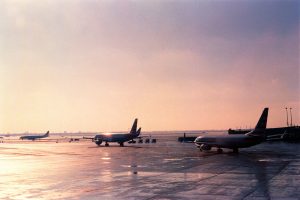 Although investigations into the incident are still ongoing, Emerson apparently announced that he was not "not okay" before pulling two handles above the pilots—handles that are used to deactivate the engines in the event of an uncontrolled fire.
One of the pilots grabbed Emerson's wrists, who, after a brief struggle, agreed to leave the cockpit. The pilots then reset the handles and requested authorization to make an emergency landing.
The complaint suggests that, even after his hands were zip-tied and he was removed from the cockpit, Emerson again tried to sabotage the flight by opening the cabin door—a task that, while physically impossible at cruising altitude, could have alarmed nearby passengers.
"Passengers observed Emerson walk from the cockpit to the back of the aircraft. There, and while still in flight, he attempted to open the cabin door," the lawsuit alleges. "Some passengers saw the zip ties and were confused as to why that would be the case."
Upon landing in Portland, Emerson was taken into custody by awaiting law enforcement.
Alaska Airlines has since said that power to the engine was never lost, and that its crew remained in control of the aircraft throughout the entire flight.
"However, the clever rhetoric attempts to soften the undeniable: An attempt to crash an airliner actually was not merely a "security threat"; an actual security breach occurred; Emerson attempted to kill everyone aboard," the lawsuit states.
The lawsuit claims that Alaska Airlines and Horizon Air bear responsibility for the events. It seeks an assortment of special and general damages, with the amounts of any award to be determined at trial.
Sources
Lawsuit filed over Horizon Air flight put at risk by mentally troubled pilot
Passengers from Alaska Airlines flight diverted to Portland International Airport file class-action lawsuit
Pilot's in-flight incident prompts lawsuit against Alaska Airlines