Immigration advocates are suing the federal government on behalf of Peter Brown, a U.S. citizen who was almost deported over an ICE request.
The groups' lawsuit states that authorities in Monroe County, Florida ignored Brown's insistence that he was a citizen. Even after a judge ordered the man released, Brown was kept incarcerated after the U.S. Immigration and Customs Enforcement agency requested that he be detained and kept for deportation.
"Despite his repeated protests to multiple jail officers, his offer to produce proof, and the jail's own records, the Sheriff's Office held Mr. Brown so that ICE could deport him to Jamaica—a country where he has never lived and knows no one," the lawsuit claims.
"The Sheriff's Office ignored all the indications that it was illegally detaining Mr. Brown. It did nothing to investigate his citizenship. It did not contact ICE to pass along this urgent information, or ask for a review of Mr. Brown's files," the suit says. "It did not seek any further information from Mr. Brown or anyone else. It simply held Mr. Brown, in violation of his constitutional rights and after he was entitled to release under state law, so that he could be picked up by ICE and deported from the country."
Pacific Standard Magazine recounts how Brown's pleas to sheriff's deputies and ICE went unanswered. He was only released after a friend managed to produce a copy of Brown's birth certificate, showing he'd been born in Pennsylvania.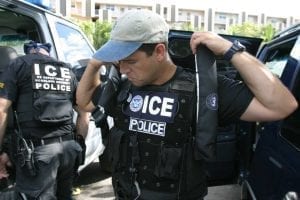 Brown allegedly offered to do the same. Media accounts state that the facility Brown was detained at had, in fact, already registered his birthplace as being within the United States.
CNN reports that Brown—according to the lawsuit—was born in Philadelphia and has only visited Jamaica once, while taking shore-leave on a cruise.
While the Monroe Sheriff's County purportedly declined to comment, Brown's since released a statement expressing his continued incredulity.
"It's shocking and not right that somebody can lose their human rights and have all dignity stripped away simply because someone delivers a piece of paper or signs a form," he said in a press release put out by the American Civil Liberties Union, which is one of the organizations representing him.
Immigrant and civil rights watchdogs claim Brown's detention and near-deportation is part of a larger trend: that of ICE using local law enforcement as proxy enforcers.
"ICE has tried to turn local law enforcement agencies into its force multipliers for years," Mary Sauer, deputy legal director for the Southern Poverty Law Center, said in a statement. "Basic Ordering Agreements are ICE's latest attempt to turn county sheriffs into de fact immigration agents, with the promise that the sheriffs can't be sued when they violate people's constitutional rights.
Pacific Standard says that Brown is being represented by the ACLU, the ACLU's Florida chapter and the Southern Poverty Law Center.
The suit was filed in U.S. District Court and argues that ICE's detention order and arrangement with the Monroe County sheriff's office was insufficient reason to detain a U.S. citizen with no criminal charges brought against them.
Sources
A U.S. CITIZEN WHO WAS DETAINED AND NEARLY DEPORTED FILES A LAWSUIT IN FLORIDA
Florida Sheriff Worked With ICE to Illegally Jail and Nearly Deport US Citizen
He's a US citizen born in Philadelphia. He says ICE detained him anyway