A veterans' advocacy group is suing the Transportation Department in a quest to make airplane bathrooms more accessible for travelers with disabilities.
The Washington Post reports that the suit was filed Thursday by Paralyzed Veterans of America. Lodged in the U.S. Court of Appeals for the 10th Circuit, the group is demanding the government make restrooms on single-aisle aircraft easier to enter and use for handicapped passengers.
"Our suit is simply asking the [Transportation Department] to do what Congress directed them to do," said attorney Karianne M. Jones, an attorney with Democracy Forward Foundation, which is representing the veterans group.
The Post notes that disability advocates were 'heartened' in 2016, when a Transportation committee issued new guidelines on bathroom accessibility.
"The agreement […] is an important step towards ensuring that air travelers with disabilities have equal access to air transportation," said then-Transportation Secretary Anthony Foxx. "It is unfair to expect individuals with limited mobility to refrain from using the restroom when they fly on single-aisle aircraft, particularly since single-aisle aircraft are increasingly used for longer flights."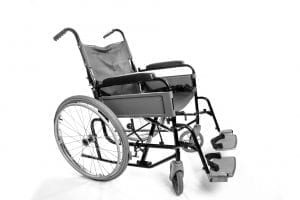 Although Foxx announced a July 2017 deadline for putting the rule into effect, the Post claims the agency hasn't just missed the date but has signaled it may discard the directive altogether.
Plaintiff James John Thomas Wheaton Jr., treasurer of Paralyzed Veterans of America and himself a Navy veteran, said he's been dealing with discomfort for nearly thirty years. Now forced to fly at least once per month for his job, Wheaton's spinal injury means he's forced to extensively plan any air travel so he won't end up having to use the bathroom.
"We're kind of stuck in one seat regardless of whether we have bowel or bladder issues," he said. "If there's any issue that comes up, I can tell you now that I'm in my 50s, sometimes I have to wear special devices to make sure I don't embarrass myself in front of 300 people."
Jones said that members of the government and public often don't appreciate the sorts of challenges travelers with disabilities face.
The Transportation Department currently requires that planes with more than 60 seats provide a wheelchair for the disabled. Wheelchair services are only arranged if airlines are given more than 48 hours' notice.
Furthermore, reports the Post, airplane wheelchairs have critical limitations. Designed to help disabled passengers reach restrooms in-flight, they're too large to actually fit through a lavatory door.
The difficulty some disabled passengers have in making it from an aisle-bound wheelchair into the restroom means that many opt to forgo the hassle and possible embarrassment by not using the loo at all.
The Post says that the renewed push for accessible lavatories 'comes at a time when personal space on airplanes is shrinking.' Restrooms on newer models of Boeing's 737, for instance, are now only 24 inches wide—an alteration which has let airlines add up to six additional seats per vessel. The prospect of bigger revenues has led to many companies 'retrofitting older planes' with smaller facilities.
Sources
Veterans' Advocates Sue Over Airline Safety
Veterans group seeks court's help in making airplane bathrooms more accessible