Pfizer is recalling certain blood pressure medications that may pose a cancer risk.
---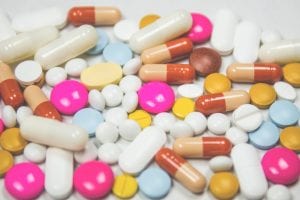 If you've been prescribed a blood pressure medication, this latest recall notice is for you. Earlier this week, Pfizer Inc. announced a recall for certain lots of Accuretic and "two other versions of the drug quinapril and hydrochlorothiazide tablets," over concerns they may contain high levels of nitrosamine. Elevated levels of nitrosamine may post a cancer risk. When commenting on nitrosamine, the FDA stated:
"Nitrosamines are common in water and foods, including cured and grilled meats, dairy products, and vegetables. Everyone is exposed to some level of nitrosamines. These impurities may increase the risk of cancer if people are exposed to them above acceptable levels over long periods of time."
The blood pressure medication is typically prescribed to help treat hypertension and reduce the "risk of cardiovascular events, primarily strokes and myocardial infarctions."
At the moment, the recall is voluntary and the company has yet to receive reports of patients experiencing adverse reactions. A list of the affected lot numbers can be found here. The recall notice states:
"Although long-term ingestion of N-nitroso-quinapril may be associated with a potential increased cancer risk in humans, there is no immediate risk to patients taking this medication."
For now, Pfizer recommends patients who have the medication reach out to their healthcare provider to find out if they have the recalled medication. Patients with additional questions or concerns about the recall can call 888-843-0247.
Sources:
Pfizer launches a recall of blood pressure drugs due to a potential carcinogen
Pfizer's blood pressure med recall creeps into US as testing flags carcinogen threat