A man is discovered by authorities after he lets out loud fart. A flight also makes an emergency landing after a man won't stop farting.
---
Law enforcement officers got a big break in a very unexpected way while attempting to track down and arrest a suspect in Missouri wanted for a felony warrant for possession of a controlled substances.  Missouri Law 579.015 cites a felony-level penalty to be when a suspect has "any controlled substance except thirty-five grams or less of marijuana or any synthetic cannabinoid."  The search came to a sudden halt when the man let out a loud fart, giving away his location.  Officers were immediately alerted to the spot in which he was hiding, handcuffing him while likely holding their breath.
"If you've got a felony warrant for your arrest, the cops are looking for you and you pass gas so loud it gives up your hiding spot, you're definitely having a (poop emoji) day. #TuesdayThoughts #ItHappened," the department wrote on Facebook, adding a follow up comment, "We've gotta give props to Liberty PD for using their senses to sniff him out!"
Liberty, Missouri tweeted, "Thanks to @SheriffClayCo for airing out a wanted person's dirty laundry and fanning the flames.  The Liberty Police Department was surprised to see this incident slip out, which stinks for the arrestee.  Fortunately, no one was injured during his arrest."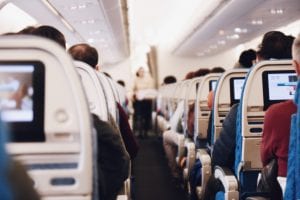 That's one suspect who is definitely regretting what he ate for lunch.
In other farting news, just last year, a Transavia Airlines Flight HV6902 had to make an emergency landing when two men sitting next to a man who wouldn't stop farting complained about the flatulent passenger.  Instead of the flight crew doing something to stop the stink, the captain issued a warning to the men that they needed to stop their loud, threatening behavior.
Eventually, a fight broke out and the stop was scheduled in Vienna to remove the disgusted passengers.  The farting man was, ironically, allowed to stay.  Two women were also forced to evacuate, and later claimed their only crime was sitting in the same row as the supposed troublemakers.  They have taken the matter to court.
"We had nothing to do with the whole disturbance.  We distance ourselves from that.  Do they sometimes think that all Moroccans cause problems?  That's why we do not let it sit," one of the women said, adding, "We had no idea who these boys were, we just had the bad luck to be in the same row and we didn't do anything…All I will say is that the crew were really provocative and stirred things up."
Transavia filed a police report concerning the matter and all kicked-off, ticked-off passengers have been banned from flying Transavia Airlines altogether.  However, a spokesperson did indicate the airline would be "open to having a conversation" with the women who've claimed they were not involved and have pursued litigation.
The airline also issued a statement, saying, "Our crew must ensure a safe flight.  If passengers pose a risk, they immediately intervene.  Our people are trained for that.  They know very well where the boundaries are.  Transavia therefore stands squarely behind the cabin crew and the pilots."
Sources:
Loud fart reveals wanted Missouri man's hiding spot, leads to arrest
Loud fart gives away suspect's hiding spot, leads to arrest
Suspect's Loud Fart Helps Police Sniff Out His Hiding Place
Loud fart helps police sniff out suspect hiding from arrest
Farting Passenger Forces Plane To Make Emergency Landing
Transavia flight forced to make unscheduled landing over farting passenger