Peter Bistrian's lawsuit against eight prison guards was dismissed, but he's still suing the government for $3 million in a separate case.
---
A federal jury blew out a lawsuit filed by a former Chadds Ford financial adviser, who was brutally beaten in prison after being exposed as an informant.
In his lawsuit, Peter Bistrian named eight guards at the Federal Detention Center in Philadelphia. Bistrian claims the group of guards blew his cover, telling others that he'd fed authorities information on local drug-lord Kaboni Savage.
While Bistrian says he pled with prison staff, repeatedly telling them his life was in danger, they seemed to pay little mind to his safety. In 2006, Bistrian was placed in a recreation pen with three other inmates. One was among Kaboni's closest confidantes.
Face-to-face with Bistrian, the gangster and other prisoners laid into him. Bistrian suffered extensive injuries, including a dislocated shoulder, broken fingers, cuts and lost teeth.
"When I woke up, I was bleeding so hard I couldn't see," Bistrian said. "But I was screaming. I was so mad […] I told [them] this was going to happen, and it did."
It took a day for a jury to conclude that only two of the guards named in the suit—J.A. Gibbs and William Jezior—were aware of the danger faced by Bistrian. However, the jury still opted not to hold either man accountable, opining the guards had not recklessly put Bistrian at risk.
The panel's decision, reports The Philadelphia Inquirer, apparently came as a shock to Bistrian.
"We regret that the jury did not render a verdict in favor of Mr. Bistrian," one of the man's attorneys, Richard L. Bazelon, wrote in an e-mail to the Inquirer.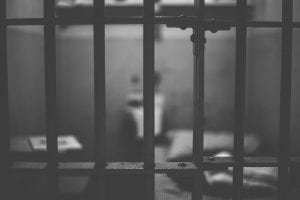 But for collection of accused guards, the mood was celebratory. They purportedly exchanged handshakes and hugs before leaving the courtroom for a round of celebratory drinks.
Gibbs' lawyer, Sarita Joyce-Moore, had spent much of the trial painting Bistrian as a cunning and incorrigible con-man. In her open statement last week, she said Bistrian routinely "makes up stories for his own advantage."
"It's what got him into prison, it's what he did in prison, and he has continued to do it after he was released from priosn," Joyce-Moore said.
The trial was dominated both by debates on Bistrian's continued ill health and on the role he played in informing on Savage.
"Mr. Bistrian has suffered tremendously as a result," Bazelon said. "He has steadfastly maintained what took place, the evidence has borne him out, and he has pursued a long road to get here."
Medical experts hired by the defense questioned whether Bistrian's injuries were caused by Savage's lieutenant or another inmate who assaulted him four months later after the first attack.
The second attack, made with a razor blade, constitutes the core of another lawsuit Bistrian has filed against the federal government. He's seeking $3 million in punitive damages, plus recompense for his medical expenses.
Sources
Chadds Ford financial adviser became informant against notorious Philly drug lord. What happened when he was found out?
Ex-informant against Philly drug lord Kaboni Savage loses lawsuit blaming prison guards for exposing him