The North Brunswick Police Department in New Jersey was recently named in a lawsuit alleging gender discrimination and sexual harassment.
---
A North Brunswick township is at the center of a gender discrimination lawsuit filed by one of its police lieutenants. According to Lt. Gina Braconi, she's experienced gender discrimination and sexual harassment In her job, though the township has so far denied her allegations. The suit itself was filed in Middlesex County Superior Court and alleges the "North Brunswick Police Department has demonstrated a preference for males in passing her over for promotions."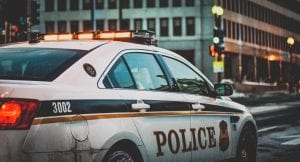 Braconi joined the police department back in January 1995 and started as a patrol officer. From there, she climbed the ranks to Juvenile Bureau detective and school resource officer. In 2005, she was promoted to sergeant and took charge of the department's Training Burea. Three years after that, she was "officer-in-charge of the Traffic Safety Bureau." She continued to progress in her career from there and was promoted to lieutenant in 2012 and named a watch commander. Three years later, "she was transferred to officer-in-charge of Internal Affairs and is presently the officer-in-charge of the department's Office of Professional Standards."
So what's the problem? What kind of discrimination did Braconi face? For starters, her suit alleges both the police department and township leadership have "created a boys club atmosphere in the police department." To make matters worse, Braconi's suit also claims that shortly after she began her job as head of the department's Traffic Safety Bureau, she was "replaced by a male because the position was a man's job." Additionally, she argues that in 2016 she was "passed over for a promotion to captain" in favor of Corey Harris, a male officer.
What does the township think of the allegations? For starters, so far it has denied the allegations and said it has "acted in good faith at all times and enforced a policy against workplace discrimination and otherwise acted with reasonable care to prevent and correct any discrimination." It added that "Braconi failed to take advantage of preventive and corrective opportunities afforded by the municipality." The township also said it "acted at all times for legitimate, non-discriminatory and non-retaliatory reasons."
It's important to note that of the department's 84 officers, only five were females when Braconi's suit was filed earlier this year. As a result, the suit alleges the police department and township "have implemented a practice of ensuring that the leadership roles in the department are held exclusively by males." The suit and state records also notes that, despite Braconi's years of experience, she still makes less than her male co-workers. For example, her annual salary is $186,111 while Harris makes $199,599 each year.
Sources:
Female lieutenant claims North Brunswick Police Department intentionally blocked her promotion due to gender discrimination
North Brunswick: Female police lieutenant claims discrimination, harassment in lawsuit