Popular Retailers Continue to Sell Paint Strippers with Harmful Ingredient
---
The U.S. Environmental Protection Agency (EPA) said in May of this year that it would "shortly" finish its proposed rule about widely available paint strippers which contain a chemical called methylene chloride and send it to the White House for final sign off before new regulation is enacted.  Yet, the process has seemingly stagnated, and the EPA won't say when it anticipates taking that step or if it is still contemplating a ban on retail sales.  The agency would only say it is "currently evaluating the proposal…to determine the appropriate regulation."
The ban on methylene chloride in removers was first proposed in January 2017.  Since then, at least four people have died using the products.  In enclosed areas, the fumes build up, putting users at risk of death by asphyxiation.  The chemical has also been shown to cause heart attacks.  A 2015 investigation by the Center for Public Integrity cited at least 56 deaths in the United States since 1980 which were linked to methylene chloride.
"This should be an easy decision," said Liz Hitchcock, director of Safer Chemicals, Healthy Families, an advocacy group. "People died using the product, and we know that there are alternatives…Why not take it off the market?"
Lowe's, The Home Depot, Walmart, and Amazon have said they will begin phasing out sales of these products.  The popular retail chains also promised to stop selling paint removers with an ingredient, often known as NMP, that research suggests could reduce fertility and endanger unborn children.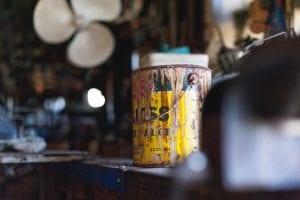 Some businesses, however, have no plans to take methylene chloride products off their shelves.  So, the families of three recent victims, Kevin Hartley, Drew Wynne and Joshua Atkins, continue press the government agency to ban it.  The mothers of Hartley and Atkins, along with advocacy groups, notified the EPA in October that they intend to file a lawsuit regarding the matter.
"Further delay will unnecessarily leave users of paint removal products at serious risk and could result in additional deaths," their notice stated.
Hartley, 21, died while stripping a bathtub in Tennessee to refinish it.  Wynne, 31, was removing paint from the walk-in-freezer in his South Carolina.  Atkins, 31, was refinishing part of his bicycle at this mother's Pennsylvania home.
Brian Wynne, one of Drew Wynne's brothers, spoke with Mick Mulvaney, director of the Office of Management and Budget, earlier this month, and the discussion, he said, was promising.  Numerous members of Congress have also asked for the EPA to act, including Republican Sens. Lindsey Graham and Tim Scott of South Carolina.
Some product manufacturers have addressed the issue by removing methylene chloride only to put in toluene and methanol, both linked to birth defects.  A 2015 report released by a safer-chemical organization called BizNGO classified toluene and methanol as "high concern."
A new formulation that avoids those chemicals was developed by the Toxics Use Reduction Institute, a state agency located at the University of Massachusetts Lowell.  The institute launched a project in 2015 to develop a safer paint stripper that would work as effectively.  A Canadian company has begun manufacturing the formulation under the name "Super Remover New Generation."
"I hope we'll be in the U.S. eventually," said Sébastien Plourde, president of Super Remover.
Beginning January 1, 2019, California will require that retailers selling paint strippers with methylene chloride in the state investigate alternatives.
Sources:
Some Paint Strippers Are Killing People.  The EPA Promised To Act — But Hasn't
Why is dangerous chemical in common paint strippers still on the market?