The new platform provides schools with a process-based methodology for research and writing across the curriculum that makes student work visible and minimizes the risk of cheating.
---
CHICAGO, Ill., (GLOBE NEWSWIRE) – PowerNotes, the platform designed to help students and professionals create high-quality research confidently and efficiently, today announced the launch of PowerNotes+ for higher ed and K-12 institutions, educators, and students. PowerNotes+ is a reading, research, and writing platform that helps educators and institutions have control and confidence using artificial intelligence (AI) in the classroom—and addresses questions of academic integrity using transparency and evidence, not suspicion.
"Schools and universities around the country are looking for ways to help students use AI responsibly," said PowerNotes' CEO and founder Wilson Tsu. "PowerNotes empowers students to show the progression of their work throughout the research and writing process. Educators can see the process unfold and assess student work early, offering formative feedback that helps students redirect their effort. This leads to less rework and frustration, as well as better student outcomes. This transparency also bolsters academic integrity when AI is used by creating a safe environment that disincentivizes cheating."
To allow faculty and students to use AI in a fully-documented and transparent environment, PowerNotes Brainstorm™ uses a direct integration with ChatGPT and other large language models. All AI interactions in PowerNotes are documented and available for faculty review, creating an environment where academic integrity is enforced via accountability rather than punishment. In Brainstorm, "closed" prompting minimizes AI hallucinations. Human research is integrated with AI language capabilities, minimizing the weaknesses of AI while promoting the strengths of both.
Other features include:
PowerNotes Insight, a patented digital authorship verification technology, ensures academic integrity by leveraging the work done in PowerNotes as part of the learning process. Insight's Activity Log provides a record of students' research activity and enables instructors to evaluate that learning process, not just the output. After a student submits an assignment, an Insight Score is generated, which compares their work to their final submission and distinguishes between appropriate and inappropriate use of AI. Faculty can investigate low Insight Scores by reviewing the student's Project Outline and a downloadable Activity Log, which shows all student-AI interactions.
PowerNotes Discovery uses AI to generate article summaries in real time. It can also produce related research topics and find resources on those topics via Google or an institution's library search. Researchers can also query the articles with AI.
AI interactions are anonymous to AI providers so student work is secure and cannot be used for training AI models.
"PowerNotes gave me the ability to see my students' research and writing processes in ways I couldn't do before," said Dr. Catrina Mitchum, a college writing professor. "Using the tool gave me the opportunity to help students before they went too far down a rabbit hole that would cause more work for them. I could identify areas of confusion before they snowballed. The ability to see behind the curtain while students are using AI is a game-changer in AI literacy for the same reason: a view into students' processes provides us an opportunity to recognize what guidance is needed."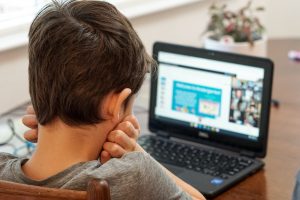 PowerNotes+ connects to an institution's LMS, such as Canvas, Moodle, Blackboard, and D2L Brightspace, as well as library resources including ProQuest and EBSCO (with optional integrations). This allows faculty to create scaffolded assignments for their students, provide library results during student Google searches, or directly open a chat with a librarian for assistance.
Every PowerNotes+ subscriber receives onboarding support, in-depth training sessions, a dedicated success manager, and direct access to PowerNotes' academic experts. Institutions, educators, and students can learn more at PowerNotes.com/plus.
"We need to prepare students for the world of the future, for jobs that don't exist yet," added Tsu. "AI is undoubtedly part of that future, so it's crucial that we understand the implications of AI and harness its potential in a responsible and effective manner. This essential work needs to start in the classroom, and PowerNotes is actively partnering with schools to develop forward-thinking AI features."
About PowerNotes
PowerNotes is the creator of the only platform scientifically designed to help students and professionals create high-quality research and written work confidently and efficiently. The first incarnation of PowerNotes was created to help law students become more efficient and effective in a digital environment. After taking cues and building features for our partner schools, PowerNotes is now used by writers and researchers of all ages, from elementary schoolers to PhD students and working professionals. More than 140 academic institutions nationwide have adopted PowerNotes, with some college instructors building their coursework around the PowerNotes process, which is focused on meaningful and transparent student engagement throughout the reading, research, analysis, and writing process. Learn more at PowerNotes.com.