A nurse with the Iowa Department of Corrections is suing the department over allegations of harassment and discrimination.
---
A nurse working with the Iowa Department of Corrections at a Story County prison recently filed a lawsuit alleging sexual harassment and pregnancy discrimination. The suit was filed in Polk County District Court and names the Iowa Department of Corrections as the defendant. The plaintiff is Kelli Lynn Weaver.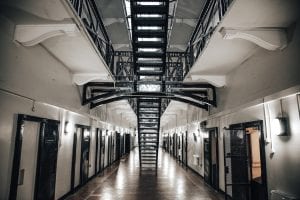 Weaver was hired as a registered nurse by the state to work at the Newton Correctional Facility in Jasper County. However, in December 2018, she "began experiencing problems with Larry Sims, a night-shift nurse at the Newton facility." According to the suit, Sims often made "derogatory comments to and about her from December 2018 until his employment ended in late 2021 or early 2022." In response to the comments, Weaver filed complaints about Sims to Sam Hill, the nursing director for the department at the time. Hill was also Weaver's immediate supervisor. 
Things only got worse for Weaver when she returned from maternity leave in 2020. According to the suit, she was "immediately targeted by Sims and subjected to repeated instances of sexual harassment, pregnancy discrimination, demeaning comments, and a sexually hostile work environment." For example, Sims allegedly called her "practice of pumping of breast milk 'milking,' and told her to go 'hook up her udders.'" On top of that, Sims allegedly "spread rumors about her to other members of the staff at the Newton Correctional Facility and told other employees he intended to have her fired."
Weaver continued to file complaints. However, instead of stepping in to remedy the situation, the suit alleges that the DOC "repeatedly denied her access to a private area to pump breast milk and so she and two other breastfeeding employees were required to pump breast milk together." Eventually, after filing even more complaints, she was allegedly "offered the option to pump milk in the optometrist's room, which had an open window so that any passerby could see in."
Things became even more uncomfortable for Weaver last November when an interaction with Sims ended with him telling Weaver to "shut the f— up." After that incident, Weaver was "removed from her position through a temporary suspension due to Sims filing a complaint against her for a hostile work environment." At the same time, the DOC had yet to take action regarding the numerous complaints Weaver had filed against Sims. 
As a result, Weaver's suit argues she was "subjected to a never-ending investigation based upon a complaint from her harasser…and that the DOC has denied her the cost-of-living wage increase afforded other employees." The suit further states:
"The only difference between the plaintiff and the other employees was that she complained about how she was discriminated against, harassed, and retaliated against."
The lawsuit is seeking unspecified compensatory damages as well as damages to cover attorney's fees.
Sources:
Prison nurse sues corrections department, alleging harassment and pregnancy discrimination
Lawsuit against Iowa DOC details discrimination and sexual harassment