Officer to serve one year in prison after lengthy affair, with inmate.
---
Married prison officer and new mother Rachel Welburn began an affair with inmate Daniel Crompton after she became his designated personal officer at Frankland Prison in Durham.  Crompton was serving a life sentence for murdering an 87-year-old war veteran in 2014.
Welburn, 39, "kept going missing on her shifts" to have sex with Crompton, 29, in a cleaning room inside the prison, according to the prosecution. The affair lasted for a year and a half, and she was ultimate jailed for one year.  The court said the relationship would be "hugely upsetting" for the veteran's surviving loved ones.
Prosecutor Robin Patton said, "The attraction between Crompton and Welburn in prison was instantaneous, and although she was married and had recently returned to work from maternity leave, they both professed their love for the other and had an intimate relationship, including sex in a cleaning cupboard on the wing."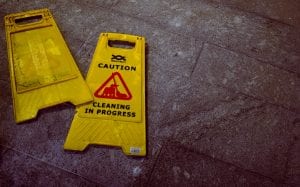 Welburn told Crompton on many occasions she would leave her husband and would see him when he was released.  She even got the prisoner to request a transfer to another facility to reduce the risk of the affair being found out and visited him there.  Welburn arranged for Crompton to be allowed to call her using a false name.
However, Crompton blew the whistle on the affair after realizing that Welburn was actually not going leave her husband, a warden at the jail.  An investigation into the matter ensued and Welburn first claimed Crompton had raped her but police found love letters between the two in his cell.  She then admitted to misconduct.
Joanne Kidd, Welburn's defense attorney, said, "She cannot explain why she behaved in this way" and that her client was deeply ashamed.
Sentencing, Judge Christopher Prince said, "The public do not expect prisoners, irrespective of the offenses they have committed, to be engaging in sexual relationships when they should be serving their sentences."
Frank Worsley, a Second World War veteran, served with the Royal Navy, and he died at Royal Bolton Hospital on August 20, 2013, three weeks after Crompton broke into his home looking for cash and repeatedly punched him.  According to court records, Welburn confronted Worsley while he was asleep and attacked him, striking him multiple times in the face after he refused to meet the intruder's demands.
While still alive in the hospital, the vet said, "This incident really frightened me.  I thought the male was never going to stop hitting me.  No person has a right to enter my home and take my belongings and hit me."  Worsley was a Sunday school teacher.
In a statement following his death, the veteran's family said, "We could be more accepting of his death if it had been of old age, peaceful and dignified.  Instead it wasn't peaceful, he wasn't comfortable, he was scared, agitated and distressed as a result of this callous attack.  He was in pain and there was nothing that could be done.  It wasn't easy to watch him lose his fight for life over the following two and a half weeks.  We are very pleased with the verdict, although we will never fully recover from this traumatic loss."
Sources:
Prison officer jailed for having sex with inmate in a cleaning closet
Mother-of-two prison guard, 39, had sex in cupboard during 18-month affair with murderer serving life for killing World War Two veteran