Baby Trend recalled certain models of its mini strollers that were sold on Amazon and in Target stores.
---
When most parents set out to buy new baby gear, there is a certain expectation that that gear, whether it's diaper bags, strollers, or cribs, will be safe for the baby. Unfortunately, that is not always the case. For example, a recall was issued for certain models of Baby Trend's Tango mini stroller. Fortunately, no injuries have been reported.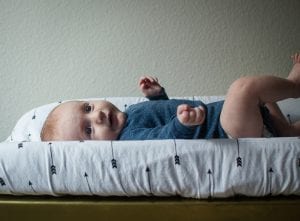 The recall was issued because an issue with the hinge joints was causing the stroller to collapse with a child in it, posing a fall risk. The company issued the following statement:
"As part of our rigorous process, we recently identified a potential safety issue. Since we strongly stand by our safety priority, we have decided to voluntarily recall certain models of the Tango Mini Strollers. The recalled models, under excessive pressure, both hinge joints could release, allowing the stroller to collapse and pose a fall hazard to children. Most importantly, Baby Trend has received NO reports of injuries."
The strollers sold between $100 and $120 at Target and Amazon from October to November 2019. Consumers who have the recalled strollers should stop using them immediately and contact Baby Trend for a refund. The models impacted by the recall include:
Quartz Pink (Model Number ST31D09A)
Sedona Gray (Model Number ST31D10A)
Jet Black (Model Number ST31D11A)
Purest Blue (Model Number ST31D03A
If you have additional questions about the recall, contact the company's customer service department at 1-800-328-7363.
Sources:
Baby Trend's Tango Mini Stroller recall: What parents need to know