Protestors flood museums the Sackler family has donated to over the years, asking them to refuse any future funding.
---
Purdue Pharma's Sackler family were once known for their philanthropic efforts.  Now they're best known for allegedly linking their pocketbooks with profits made by the addictive opioid Oxycontin.  Enraged consumers are targeting the museums and other art institutions the family has regularly donated to, asking them to refuse any future charitable contributions.
Thousands of fake prescriptions were dropped into the atrium of the Guggenheim Museum to protest against the institution's acceptance of donations from the Sacklers.  Tourists and locals were caught offguard by the demonstration as U.S. art photographer and activist Nan Goldin and fellow protestors began chanting their criticism of the family.
They also handed out fake pill bottles as sheets of paper were dropped inside the landmark museum, which includes the Sackler Center for Arts Education.  The papers were meant to represent a "blizzard of prescriptions", Goldin explained, a phrase stemming from Massachusetts' court papers where Purdue Pharma and the Sacklers are being sued.  Richard Sackler, a son of one of the original founders of the company, Raymond, is quoted in court documents as boasting at an OxyContin launch party in 1996 that the drug would be so successful the event would be "followed by a blizzard of prescriptions that will bury the competition."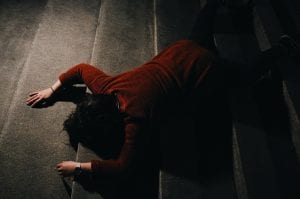 Some demonstrators revealed banners with one reading: "Take down their name."  Others sprawled out on the floor as if dead, surrounded by fake OxyContin prescriptions.
Goldin, who once overdosed on the prescription drug and almost lost her life, is now campaigning for art and academic institutions in the US and Britain to refuse philanthropy efforts by the Sacklers.
"I want the Guggenheim and others publicly to disavow themselves from the Sacklers and refuse future funding from them, and I want them to take down the Sackler name from the museums," she said.
The protest later moved from the museum two blocks south on Fifth Avenue to the Metropolitan Museum and continued.  This museum has a wing named after the Sacklers and paid for by the family.
New York student Aoife Maher, 21, said, "It looks like it's about big pharma, addressing the Sacklers – I think they're donors here.  They kept prescribing OxyContin and pushing it on doctors."
Student Alex Viteri, 31, added, "It reminded me of stories of protesters laying down in Wall Street during the Aids epidemic.  These institutions all have dirty hands."
Maher was accompanied by a man who only wanted to be identified as Quin.
"Opioids affected my sister and my brother-in-law. He died from it, actually," he said.  Quin's brother-in-law had been prescribed OxyContin in Manchester, New Hampshire, and by the time his prescription had run out, he was addicted to the drug.  He then bought pills on the black market before turning to heroin and eventually losing his life.
"He died of a mix of heroin and fentanyl," Quin said.  The man's story echoing far too many others told by family members who lost loved ones due to similar circumstances.
Goldin confirmed, "We're here to call out the Sackler family.  By failing to disavow them now, by refusing to take down their names, the museums are complicit in the opioids crisis."
Sources:
Opioid crisis protesters target New York's Guggenheim over Sackler family link
Nan Goldin Leads a Protest at the Guggenheim Against the Sackler Family