IKEA issued a recall of its SUNDVIK changing table/chest of drawers after receiving reports that children were falling off the product.
---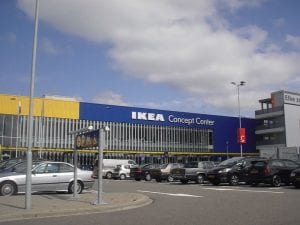 If you're the parent of an infant and use a changing table for diaper change time, this latest recall may interest you. Earlier this week, IKEA decided to recall its SUNDVIK changing table and chest of drawers after the company began receiving reports of "children falling off the furniture." How? Well, it turns out the "foldable part of the changing table can come loose, leading to children falling off of it," according to the recall notice.
The notice further states, "in these incidents the safety locking fittings were either not used according to instruction or were not fitted at the time of construction." According to IKEA Singapore, many customers have been using the recalled product as a "foldable changing table on a daily basis and weren't using the safety locking fittings according to instructions when the children fell off."
It should be noted that the company claims the product is safe to use if used as intended with all the safety locking fittings in place. Additionally, since issuing the recall, IKEA has begun notifying customers who purchased the SUNDVIK changing table/chest to inform them of the proper way to use the product, including the necessity of ensuring all the proper safety locking fittings are being used.
If you have additional questions or concerns about the recall, contact IKEA customer support at +65 6786 6868.
Sources:
IKEA issues alert about children's changing table after reports of children falling
Ikea issues urgent warning over change table after babies fall off