The controversial Florida Republican repeatedly referred to "Biden's Education Department," all while referencing a series of federal rules that were first enacted in the mid-1960s.
---
Controversial Florida Gov. Ron DeSantis has filed a lawsuit alleging that the Biden administration improperly and illegally requires that colleges and universities receive accreditation from private companies to qualify for federal funding.
According to The Associated Press, the complaint challenges a longstanding federal law stipulating that only accredited colleges receive federal student aid disbursements.
Speaking to the press on Thursday, Gov. DeSantis said that he refuses to "bow to unaccountable accreditors who think they should run Florida's public universities."
"I will not allow Joe Biden's Department of Education to defund America's #1 higher education system all because we refuse to bow to unaccountable accreditors who think they should run Florida's public universities," DeSantis said, referring to accreditation requirements that were first implemented in 1965.
"Throughout my time in office, I have made it a priority to bring transparency and accountability to higher education and to reorient the mission of our colleges and universities away from purveying destructive ideologies and back toward the pursuit of truth and the preparation of our students for success," DeSantis added. "The Biden administration's attempts to block these reforms is an abuse of federal power, and with this lawsuit, we will ensure that Florida's pursuit of educational excellence will continue."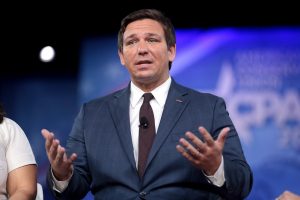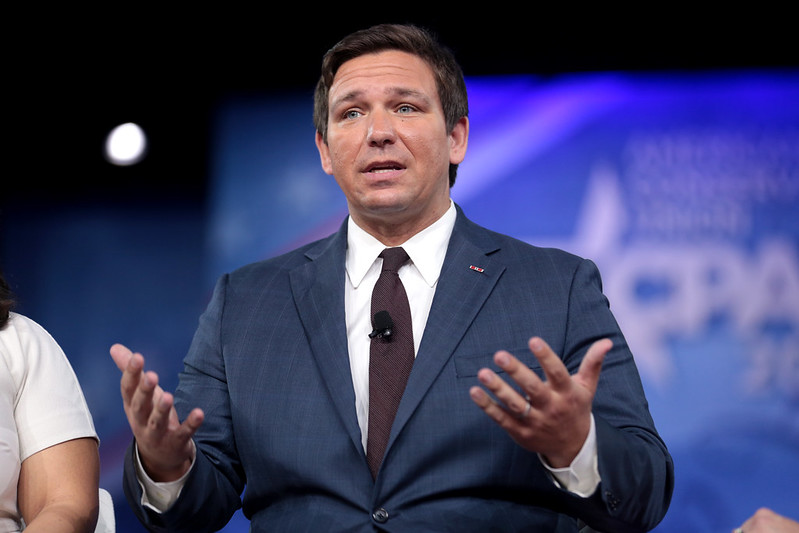 "We're asking the court to find this arrangement to be unconstitutional," said Gov. DeSantis, who has repeatedly stoked national controversy by advocating for book bans in public schools and libraries.
Abdullah Hasan, a White House spokesperson, said that DeSantis is trying to engage in a "culture war" against the federally-funded education system.
"If Republican elected officials could have their way, library shelves would be stocked with guns – not books – and curriculums would be loaded with conspiracy theories, not facts," Hasan said in a statement. "These culture wars do nothing to actually help students, and only make things worse. This Administration won't allow it. We're committed to ensuring all students receive a high-quality education, and will fight this latest effort by opponents to get in the way of that."
The Associated Press notes that, under federal law, private accrediting agencies decide which colleges and universities are entitled to approximately $112 billion in federal aid.
The Southern Association of Colleges and Schools Commission on Colleges, also known as SACS, oversees accreditation in Florida.
However, Florida recently passed a law that prohibits higher education institutes from being accredited by the same agency or association for consecutive accreditation cycles.
Despite Florida making changes that conflict with federal law, Gov. DeSantis has posed the accreditation requirement as a burden to enforcement.
"You cannot take legislative power and delegate it to an unaccountable private body," DeSantis said. "Under their theory, the accreditor can serve as a veto against the entire state of Florida."
DeSantis further suggested that federal law makes it more difficult for individual states, and their residents, to play a role in university administration and policymaking.
"So, you know, that's a view that really, this board trumps the entire state of Florida," he said. "We reject that, and today we are going to do something about it."
Sources
DeSantis sues Biden administration over university accrediting system
Governor DeSantis Sues Biden Administration to Ensure Freedom in Higher Education