San Diego's Republican-dominated board says the White House is costing the city millions.
---
San Diego is suing the Trump administration, claiming recently-enacted policies on asylum-seekers have strained the county's finances and stretched the capabilities of its healthcare services.
According to the Los Angeles Times, the suit was filed by the Republican-dominated San Diego County board of supervisors. The complaint is in response to the Trump administration's termination of the Safe Release program, which assisted asylum-seekers who'd already entered the United States in finding accommodation with friends and family members.
"Now, large numbers of asylum seekers and accompanying family members are forced to remain in the County, without sufficient means to support themselves, because Defendants abruptly stopped providing asylum seekers with assistance in reaching their final destination," the suit claims. "In response to Defendants' sudden and unlawful change in policy […] the County has been forced to expend substantial funds and other resources to provide medical screening and care to asylum seekers."
The suit was filed in District Court in Southern California; it named prominent administration officials as defendants.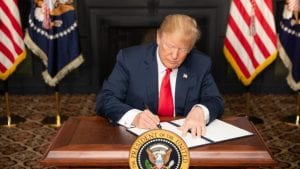 Among them are Homeland Security Secretary Kirstjen Nielsen and the heads of agencies like Immigration and Customs Enforcement, Customs and Border Protection and the U.S. Border Patrol.
San Diego and its governing board voted to sue the Trump administration in February; the proposal was propped up by three Republicans and buoyed by a lone Democratic supervisor.
Chairwoman Dianne Jacob, writing on Twitter, claims San Diego has already spent upwards of $1.3 million operating a single shelter for asylum-seekers since the end of Safe Release.
"That figure is ballooning by the day," Jacob tweeted.
Immigration has long been a priority and political talking point for President Donald Trump and his political proponents. Since taking office, he's issued numerous executive orders intended to combat immigration, whether legal or not. Among his most controversial directives was a clamp-down on asylum-seekers traveling as families, leading to thousands of children being separated from their parents last summer.
And, over the past week, Trump repeatedly threatened to close down the U.S.-Mexico border unless Latin American countries do more to halt the flow of illegal drugs and immigrants into the United states.
To that end, the president ended international aid to the governments of Guatemala, El Salvador and Honduras.
Jacob implies that some of the communities most hurt by Trump's policies are those on the U.S. side of the border, with local taxpayers "holding the bag" to take care of migrants sidelined by the end of Safe Release.
San Diego board member Nathan Fletcher told the Washington Post that, since the program's been rescinded, over 11,000 asylum-seekers have passed through local shelters.
Reuters and the Los Angeles Times say that administration officials were unwilling to comment on the litigation or its contingencies.
Sources
San Diego County sues Trump administration over immigration policy
San Diego lawmakers sue Trump administration as border county cares for 11,000 asylum seekers