While the Connecticut Supreme Court has authorized the lawsuit to move forward, experts expect Remington will file an appeal.
---
The relatives of Sandy Hook victims may proceed with a lawsuit against firearms manufacturer Remington, according to a Connecticut court's Thursday decision.
The 4-3 ruling is the latest verdict in years-long litigation. The lawsuit, says the New York Times, is a 'direct challenge' to the immunity Congress gives gunmakers when their products are used illegally.
"The Connecticut Supreme Court has blown a very large hole into the federal immunity for firearms manufacturers in lawsuits alleging criminal misuse of the products they sell," said Timothy Lytton, law professor at Georgia State University and an expert on firearms litigation.
The Sandy Hook shooting, reports Reuters, occurred some six and a half years ago at a Connecticut elementary school. A 20-year old gunman opened fire inside the school grounds, killing 20 children and six adult staff.
The shooter's weapon was a Remington AR-15 Bushmaster rifle, a semi-automatic civilian variant of the military's M-16.
Attorney Josh Koskoff, representing some victims' families, said his clients are grateful that courts are challenging immunity for firearms manufacturers.
"The families' goal has always been to shed light on Remington's calculated and profit-driven strategy to expand the AR-15 market and court high-risk users, all at the expensive of Americans' safety," Koskoff said in a statement. "Today's decision is a critical step toward achieving that goal."
Remington is expected to lodge an appeal with the U.S. Supreme Court.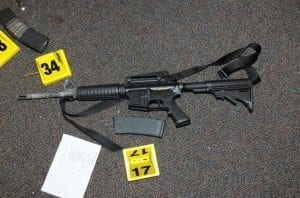 According to Reuters, any further petition would likely not emphasize Second Amendment rights so much as the ability of courts to interfere in and reorder state law. While Remington has yet to offer comment, some firearms advocacy groups have opined that the Connecticut Supreme Court's take on protections for gunmakers is an aberration.
"The majority's decision today is at odds with all other state and federal appellate courts that have interpreted the scope" of federal immunity, said the National Shooting Sports Foundation in a statement.
Sandy Hook families, writes the New York Times, have pursued a 'novel strategy' to circumvent federal protections. Their hope, according to the Times, is to eventually force the case to trial, allowing attorneys access to Remington's internal communications.
While they face a steep uphill battle, Nora Freeman Engstrom, law professor at Stanford University and author of an amicus brief signed by law professors involved in the case, said the ruling shows that protections aren't "impenetrable."
"This is not the end," she told the Times. "Any path for plaintiffs will be long and strewn with obstacles. But this opinion suggests there may well be a road, which before was unclear."
In court, Remington has urged sympathy for the victims coupled with a linear interpretation of law. The Times recounts the words of attorney James B. Vogts, who said that Sandy Hook "was a tragedy that cannot be forgotten."
"But no matter how tragic," Vogts added, "no matter how much we wish those children and their teachers were not lose and those damages not suffered, the law needs to be applied dispassionately."
Sources
Families can sue gun maker for Sandy Hook school massacre: court
Sandy Hook Massacre: Remington and Other Gun Companies Lose Major Ruling Over Liability