The mother of a Ferrum College student filed a lawsuit against the school and six fraternity members for the hazing-related death of Michael Anthony Walker, and recently she agreed to a $544,000 settlement agreement.
---
The family of a Ferrum College student recently agreed to settle a wrongful death lawsuit regarding the 2016 hazing-related death of Michael Anthony Walker for $544,000. At the time of the incident, Walker was a freshman at the school. Tragically, he was found "unconscious on April 17, 2016, at an off-campus party hosted by the Sigma Alpha Kappa fraternity, which Walker had pledged." Eight days later, he died.
The suit itself was filed by Walker's mother, Melissa Seamster French against Ferrum College, six fraternity members, and others. When commenting on the settlement agreement, Paul Thomson, French's attorney, said that up until now he has been prohibited from commenting on the details of the case. Ferrum College has also declined to comment on the matter.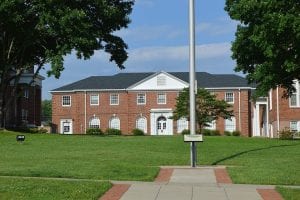 What were the allegations mentioned in the lawsuit, though? In her suit, French argued that "Ferrum College and the fraternity's adviser failed to train, supervise and discipline Sigma Alpha Kappa and ensure it complied with state regulations and best practices regarding hazing." It further argued that the six fraternity members—which included officers, Walker's big brother, and a pledge master—"failed to protect Walker from unsafe pledging activities, including hazing." According to the suit, Walker was subjected to a variety of different types of hazing, such as paddling, sleep deprivation, forced alcohol consumption, and others.
On the day of the incident, which happened to be initiation day into the fraternity, Walker "drank so much that he became sick and was unable to walk without help." According to the lawsuit, some of the defendants in the fraternity then "pushed Walker around in a wheelchair and photographed him while he was incapacitated." From there, they left him alone instead of seeking medical assistance to help him.
Eventually, when emergency responders did arrive, they were unsuccessful in reviving Walker so they took him to Carilion Roanoke Memorial Hospital, where he died days later.
Prior to the settlement agreement, French's lawyers argued that Ferrum College "should have known the dangers posed by fraternity hazing, and also that Sigma Alpha Kappa was not affiliated with a national fraternity and did not have the supervision, education and risk-management resources that come along with that."
Of the $544,000 settlement agreement, Ferrum College is only responsible to pay $14,000. The other $530,000 or so will be paid by the six fraternity brothers named as defendants in the suit. At the time of the incident, all six fraternity brothers were " insured under policies of liability insurance issued to their parents, which covered the costs of their settlements," according to court documents.
Sources:
Lawsuit settled in Ferrum College fraternity death
Lawsuit settled from alcohol death of Ferrum College student