A settlement has been reached in a negligence lawsuit against hotel chain Embassy Suites and its parent company Hilton Worldwide after a guest was sexually assaulted.
---
Cheri Marchionda of New Jersey filed a negligence lawsuit against Embassy Suites and Hilton Worldwide, as well as Atrium Finance III, the company that owns the Des Moines, Iowa, hotel after she was raped.  She claimed staff members gave her room key to the man who sexually assaulted her.
According to court documents, Marchionda was traveling for work when she checked into the hotel on April 9, 2014.  She visited the hotel restaurant and sat at the bar for dinner, where she was approached by 31-year-old Christopher Edward LaPointe.  He flirted with her and she turned him down.  Then, Marchionda headed toward the elevator to return to her room where LaPointe followed her and tried to get her attention.  She stopped on the seventh floor and got out.
The following night, LaPointe again approached her, sat at the same table as Marchionda at the restaurant, and "drank at least three beers and a shot of liquor," according to the lawsuit.  Marchionda made a comment about the strange man to the bartender and the bartender replied he was "harmless."  The, the woman left for her room and LaPointe stayed to chat with the bartender.  When the bartender joked that his "flirtatious efforts" were unsuccessful, LaPointe responded, "The night is not over yet." '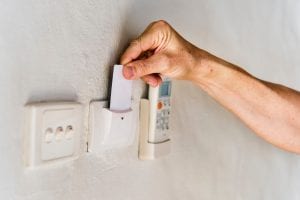 He headed to the reception desk and obtained a room key.  Heading to the seventh floor, he used the key, but a second lock had been used to secure the door from the inside.  So LaPointe found a maintenance man and told him his girlfriend had locked him out after a fight.  By the time he was in the room, LaPointe had been aided by a hotel manager, maintenance man, and desk clerk, all of whom violated policies designed to prevent this type of crime.
"Each defendant owed a special duty of care to her, including a duty to provide for and assure her safety and security while at the hotel," attorneys Paul Brandes and Michael Hanamirian wrote. "To not expose her to burglary, assaults or attacks by others…and to not assist others in burglarizing, assaulting or attacking her."
The lawsuit was originally filed in a New Jersey federal court but was moved to Iowa after attorneys were unable to agree on a settlement during nonbinding mediation. A motion to dismiss the case over jurisdictional issues was previously denied.  LaPointe eventually pleaded guilty of burglary and sexual abuse charges and is currently serving a 20-year prison sentence at the Iowa Medical and Classification Center.
Unfortunately, this isn't the first time a lawsuit of this nature has been filed against Embassy Suites and Hilton Worldwide.  Los Angeles attorney Gloria Allred also filed suit against the chain and its parent company on behalf of a woman who was sexually assaulted at a hotel in North Charleston, S.C.  The woman was staying at the chain after a Christmas party and was assaulted by a co-worker who got a key to her room from the check-in desk by claiming he was her boyfriend.
Sources:
Iowa hotel settles with woman who was raped inside her room