Judge dismisses In-N-Out's case against Smashburger for it's Triple Double, but a class action is still pending.
---
In-N-Out burger and Smashburger have gone rounds in court over the years.  They have a well-publicized rivalry riddled with litigation.  First filed in 2017, In-N-Out has settled its lawsuit related to Smashburger's selling "Triple Double" burgers, a name it said that is too close to "Double Double" and "Triple Triple" burgers.  U.S. District Judge James Selna in Santa Ana, California dismissed In-N-Out's trademark infringement, false advertising and unfair competition case, and the case has officially been closed.
Some background: In-N-Out Burger filed the lawsuit in 2017 alleging Smashburger's menu item "infringes on the Southern California-based chain's burger menu trademarks," according to the Orange Country Register.  In-N-Out was founded in 1948 as a quick service burger stand, and according to the filing, it has held a registered trademark for its Double Double since 1963 and the Triple Triple since 1966.  Smashburger was founded in 2007 in Denver, Colorado.  Its website claims the company uses "the highest quality ingredients; an exceptional 'smashing' culinary technique; modern, inspired curated recipes; and menu variety that satisfies virtually all occasions and situations."  The chain introduced its Triple Double burger in July 2017.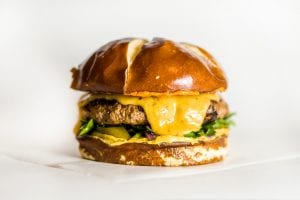 In-N-Out's lawsuit argued that the similarity in names was "likely to confuse and mislead the consuming public, and injure In-N-Out, by causing consumers to believe incorrectly that Smashburger's products originate from or are authorized by In-N-Out."  It accused Smashburger of "dilution of its trademarks."
This isn't only issue Smashburger has faced after releasing the Triple Double, either.  A class action lawsuit filed earlier this year is claiming these burgers do not contain double the beef as the company advertises.  When released, the product was supposed to contain "two of Smashburger's famous fresh never frozen beef patties" opposed to a single patty, and this simply isn't the case, according to the lawsuit.
This class action alleges "the restaurant implements illusionary representations to deceive their consumers into thinking that they are getting more product for their money…the company knowingly deceives their customers with these representations in order to influence them to pay more for the supposedly improved burger…Smashburger's representations are false, misleading, and reasonably likely to deceive the consuming public who, like Plaintiff here, rely on the truth of Smashburger's representations to make purchasing decisions."
The ongoing lawsuit is asking for "claims for breach of express warranty, unjust enrichment, and violation of California laws including the Consumer Legal Remedies Act, False Advertising Law, and Unfair Competition Law."  It seeks injunctive relief, compensatory damages, consequential damages, incidental damages, statutory damages, restitution, disgorgement, court costs, and attorneys' fees.
Barbara Trevino, who is the named plaintiff in the case, was allegedly deceived by representations that the Triple Double burger contains "double the beef."  She has said she would not have purchased the burger, paying additional money (an estimated $4 total), had she known it contained the same amount as a traditional sandwich.  Others have been met with the same disappointment.  The class action lawsuit is still pending and is filed under Trevino v. Smashburger IP Holder LLC, et al., Case No. 2:19-cv-02794, in the U.S. District Court for the Central District of California.
Sources:
In-N-Out, Smashburger settle lawsuit over soundalike burger names
In-N-Out Slaps Smashburger With Lawsuit Over 'Triple Double' Burger
Smashburger Class Action Challenges 'Double the Beef' Burgers