With cooperation between Orange County jails and I.C.E. about to end, the ACLU fears immigrants will be sent far from their families and lawyers.
---
A California branch of the American Civil Liberties Union is suing U.S. Immigration and Customs Enforcement to stop the transfer of two detainees in an Orange County jail.
The Los Angeles Times reports that the complaint was filed by an ACLU chapter in Southern California. It notes that the Orange County recently ended an agreement with the federal government to house immigration detainees.
So, starting August 1st, the facility's contract with I.C.E. and its affiliates will end. And now the immigration agency has said Orange County detainees could be transferred much farther away.
In a bid to prevent the hand-over, the ACLU of Southern California lodged its lawsuit Friday in U.S. district court. Named as defendants are I.C.E. and the Department of Homeland Security. While attorneys haven't demanded that federal authorities relinquish their role in migrants' cases, they're asking that detainees with attorneys or immediate family in Southern California remain in the region.
According to the Los Angeles Times, the ACLU is also planning to request a preliminary injunction that'd put a stay on any transfers, pending a full trial.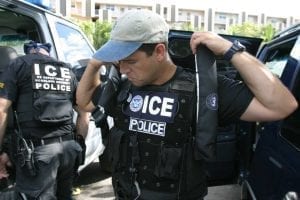 "If ICE transfers these individuals thousands of miles away from their lawyers and their families, it makes it practically impossible for them to fight their deportation cases and then they could be deported to countries where they would suffer significant harm, persecution, torture, death" said ACLU-Southern California staff attorney Sameer Ahmed.
The Times notes that about 404 Orange County inmates could be impacted by the lawsuit and its outcome. However, the complaint was filed on behalf of several locked up in the James A. Musick and Theo Lacy facilities.
The ACLU's suit is taking forward their cases and bolstering the efforts of the Public Law Center in Santa Ana and Public Counsel in Los Angeles, both of which provide free legal services to immigrants.
One plaintiff, writes the Times, is Ubaldo Arroyo.
Arroyo was arrested by I.C.E. in late February and has been held at the James A. Musick Facility in Irvine ever since. Unable to afford an attorney, he's been provided counsel pro bono; Arroyo claims if he were transferred, his financial condition could prevent him from hiring another advocate.
Several of Arroyo's relatives live nearby in Anaheim but don't all have personal vehicles. His mother visits him as often as she can but says a federal transfer outside the state would make keeping in contact hard.
"Imagine if they send him somewhere else," his mother said. "I don't know what would happen and if I would see him again."
Another plaintiff, Bashir Abdi Wabare, is originally from Somalia. He came to the United States last December seeking asylum but has been behind bars at Theo Lacy Detention Facility near Orange, California, ever since.
Other plaintiffs include asylum-seekers, undocumented immigrants and a legal permanent resident facing deportation following a criminal conviction. Some are from Central America—the Orange County Register specifically mentions Honduras—while at least two are from Cameroon and Eritrea, both countries in sub-Saharan Africa.
The L.A. Times notes that the sheriff's decision to end its contract with I.C.E. was made to free up more beds for inmates with mental health disorders.
Sources
ACLU Sues Homeland Security, ICE To Prevent Transfer Of California's Detained Immigrants
ACLU sues Homeland Security to stop feds from moving immigrant detainees far from Orange County
ACLU sues to stop the transfer of jailed immigrants out of California