Barr is trying to give I.C.E. and its affiliates exclusive authority to order immigrants' release.
---
A coalition of immigration and civil rights advocates are suing the Trump administration after U.S. Attorney General William Barr ordered that asylum-seekers who demonstrate 'credible fear' aren't eligible for bond if their cases move to deportation proceedings.
According to The Hill, the complaint was filed by the American Civil Liberties Union, American Immigration Council and Northwest Immigrant Rights project. The lawsuit is an amended version of another complaint, which adds reference to Barr's policy and seeks to stay its implementation.
The class action claims the administration's decision violates the Due Process Clause, the Immigration and Nationality Act and the Administrative Procedure Act.
The Hill quotes complaining as saying that Barr's policy, framed as an administrative ruling, "exacerbates the harm those fleeing persecution have already suffered by needlessly depriving them of their liberty without adequate review."
Barr's policy presents a shift from past practice. Before, immigrants who passed a 'credible fear' interview after illegally crossing the border could petition a judge for bond and release.
However, Barr's amendment would grant I.C.E. the sole authority to determine whether they should be released.
Collectively, the ACLU and its allies are asking the court to ensure that the White House can't interfere with detainees' "right to apply for protection by delaying credible fear interviews and by subjecting them to lengthy detention without prompt bond hearings."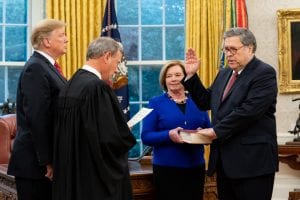 To that end, they're hoping asylum-seekers will be guaranteed expedient credible fear interviews and bond hearings, depending on individual case statuses.
"This policy unconstitutionally strips people of their right to a hearing," said ACLU Immigrants' Rights Project senior staff attorney Michael Tan. "Hearings are a critical part of due process and prevent unlawful detention."
"The administration cannot bypass the Constitution by arbitrarily locking people up," Tan said in a statement. "Trump's true motives are clear—to deter asylum-seekers and punish people who apply for protection under our laws."
The lawsuit names as defendants Attorney General Barr, the Department of Homeland Security, Immigration and Customs Enforcement, Customs and Border Protection, the U.S. Citizenship and Immigration Services and Executive Office for Immigration review, among others.
"The decision is unprecedented," Tan said. "No matter what they say, the goal is to send the message to immigrants that they should not come to the U.S. and apply for asylum or else you are going to be punished with detention without review."
In a separate statement, Tina Realmuto of the American Immigration Council characterized the administration's use of "mass incarceration" as a "weapon to punish migrants."
According to Tan, Barr's enabling of mass incarceration is a means to bolster an already-overburdened immigration system by giving I.C.E. more autonomy to circumvent constitutional checks.
"We know what they want to do is build up the detention system even further, deny them bond hearings, have them go to I.C.E. under a sham parole process," Tan said. "And the result is that they are locked up indefinitely."
Barr's policy comes on the heels of another controversial dictate, which hike fees asylum-seekers have to pay when submitting applications at the border or in detention. Immigration advocates have derided that initiative, too, saying it effectively prevents vulnerable migrants from even initiating the asylum process.
Sources
Immigrant rights groups file legal challenge to Trump asylum policy
The Trump Administration's Decision To Withhold Bail From Asylum-Seekers Is Being Challenged In Court
Trump administration sued over policy barring asylum seekers from asking for bond