The Southern Poverty Law Center claims isolating prisoners deprives of them constitutional rights and important opportunities to help them rejoin society.
---
The Southern Poverty Law Center is suing Florida, claiming the state's excessive use of solitary confinement make it an 'outlier' among the nation's prison systems.
According to the News Service of Florida, the lawsuit, filed Wednesday, names the Florida Department of Corrections and its secretary, Mark Inch, as defendants. The complaint contends that state prison officials "discriminate against people with disabilities in its use of isolation" and are "deliberately indifferent to the substantial risk of harm" caused by the inappropriate use of solitary confinement.
SPLC senior supervising attorney Shalini Goel Agarwal says the corrections department is "widely overusing" solitary as a means to manage inmates.
Similar to another lawsuit filed by the American Civil Liberties Union in Virginia last week, the SPLC's lawsuit states that isolation cells are often tiny and sparsely furnished—many are no larger than parking spaces, with inmates locked away for petty offenses and trivial rule infractions.
Agarwal says that, in recent years, there's been a nationwide shift away from solitary confinement as an extraordinary response to ordinary behavior. However, Florida uses isolation to control about 10 percent of its overall prisoner population—as the NSF notes, roughly 10,000 inmates 'at any given time.'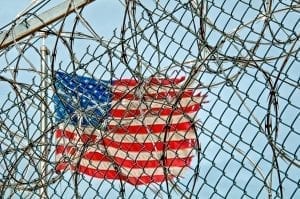 Furthermore, the SPLC says that 10 percent includes individuals with special needs who may be additionally vulnerable to the physical and psychological stresses of solitary.
"Despite their knowledge of the risk of harm, defendants have no policies to exclude known vulnerable people from isolation, including, but not limited to people with serious mental illness or intellectual disabilities, pregnant women, juveniles, or people with histories of suicide attempts," the lawsuit claims.
Department of Corrections spokeswoman Michelle Glady wouldn't offer comment on pending litigation to the NSF. But she did say that isolation is only employed when "absolutely necessary."
"Protections are in place to ensure all medical and mental health needs of these inmates are being met," Glady said in a statement. "Mandatory visits from security officers, chaplaincy and medical [personnel] are made routinely to inmates in this level of housing."
In some cases, though, inmates have spent years in solitary confinement, either with little relief or few opportunities to be re-integrated into the general population. The Tallahassee Democrat notes that one of the plaintiffs, Admire Harvard, has lived most of his adult life in punitive isolation.
And Harvard, a 28-year old transgender black woman, has been behind bars for nearly a decade. Upon intake, she was diagnosed with schizoaffective disorder, gender dysphoria and hypertension.
Not long afterward, Harvard was moved to solitary confinement. She'd allegedly incurred a handful of disciplinary infractions, which ranged from fighting with a cellmate, to yelling, kicking a door, 'disrespecting staff' and lying about a health disorder to get high-calorie meals.
Yet within three months of isolation, Florida State Prison hit her with another nine infractions, adding 270 days to her stay in solitary.
Agarwal notes that persons with serious mental illnesses, like Harvard, tend to up in isolation.
"People with mental illnesses are five times as likely to be placed in isolation," she said.
Moreover, compounding mental illness with isolation can have serious—sometimes deadly—consequences. Between January 2013 and August 2018, 46 of the 80 inmates who committed suicide in Florida penitentiaries were in solitary; another 24 had previously been in isolation.
Many prisoners locked up alone are also African-American—according to Agarwal, 60%, although Florida's prison population is 45% black. Outside penitentiaries, the state is only 15% African-American.
"Racial disparities plague Florida's criminal justice," Agarwal said.
Prolonged stays in solitary can also exacerbate the systematic disadvantages—a coincidence of factors like mental illness, poverty and lack of employment opportunities—which turn some to crime in the first place.
The SPLC's complaint even shares the accounts of several prisoners who were cut off from opportunities because they spent so long in isolation. Twenty-one year old Angel Meddler, for instance, has spent three years in isolation at the Lowell Correctional Institution Annex in Ocala. In that time, she's been placed on suicide watch on a dozen separate occasions.
While Meddler is eligible to study for her GED, she can't take classes unless she's back in with the general population.
Florida Legal Services executive director Christopher Jones suggests it's important to weigh current circumstances with future needs—many inmates cordoned off in containment cells will someday rejoin society.
"Depriving anyone of human contact exacerbates mental health conditions and leaves people unprepared to face life outside of prison," Jones said, "even though most will be returned to their communities."
Sources
Inmates file class action lawsuit over Florida's use of solitary confinement
Lawsuit challenges use of solitary confinement in Florida prisons
Lawsuit: Florida 'widely overusing' solitary confinement in prisons