When most people order a caramel macchiato with an extra shot of espresso, the last thing they expect to find is blood smeared along their cups, but that's exactly what happened to one California family. Back in 2016, a Redlands family visited their local neighborhood Starbucks and ordered a few drinks. However, according to the family a bleeding barista "tainted their drinks with blood and left them with gnawing fears that they might contract a blood-borne disease." So, they decided to sue Starbucks and formally filed a lawsuit in San Bernardino County Superior Court.
But what happened, exactly? How did Starbucks respond to seeing the blood on the family's cups? The ordeal began back on February 6, 2016, when "Amanda and Louis Vice, his mother, Rhonda Agles, and the Vices' then 2-year-old daughter, Payton Vice, ordered drinks at the Starbucks in downtown San Bernardino at 601 W. 2nd St." According to the lawsuit, the family ordered a "venti hot white chocolate mocha topped by whipped cream, a grande java chip frappuccino, and a venti ice water." When they received their drinks and noticed the blood, they confirmed "that no one in the family was bleeding" before calling the Starbucks location to "report the incident."
While on the phone, a Starbucks employee confirmed that "there was an employee who was bleeding but had since been removed from the sales floor." In an attempt to make things right, the store manager offered the family free drinks for a week, though Agles declined, calling the offer insensitive. Instead of accepting the offer, the family "pushed for a blood test for the employee," which the store manager agreed to and stated that "defendant Starbucks would pay for the barista to get tested."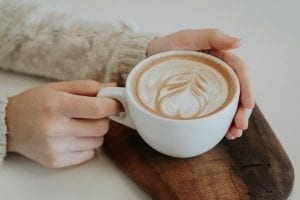 However, once a customer service representative for Starbucks got a whiff of what was going on, they "told Agles they could not force the barista to take a blood test," according to the lawsuit. Instead, the company "offered $1,000 to each family member for their troubles," but that did little to ease the family's concerns about communicable diseases, including HIV. In the end the family underwent their own blood tests, which all came back negative for communicable diseases.
During the time the affected family members experienced emotional distress from Starbuck's "seeming lack of care about their well being." When discussing the lawsuit, the family's attorney, Stan Pekler, said, "Starbucks seemed to not care about their wellbeing and refused to direct the employee to undergo a blood test to ensure the family's safety."
For now, the lawsuit is seeking unspecified damages "based on a failure to warn, negligence, breach of express warranty, breach of implied warranty, fraud, intentional infliction of emotional distress, battery, assault, negligent hiring and negligent training and supervision."
How has Starbucks responded to the allegations, though? Well, so far the company has only issued a simple statement that reads: "We are aware of this claim, that allegedly took place in 2016, and are prepared to present our case in court."
Sources:
Family sues Starbucks, alleging San Bernardino store served blood-tainted drinks
Family sues Starbucks, alleging California store served blood-tainted drinks
Join the Discussion