The U.S. State Department has told refugee resettlement agencies to cut down their operations on American soil, as Donald Trump prepares to limit immigration in the year ahead.
Advocates across the country have said the decision is likely to lead to the closure of dozens of resettlement offices. According to Reuters, such a move could leave refugees now residing in the United States without valuable resources – making it more difficult for them to integrate and seek out educational and employment opportunities.
Refugee resettlement, writes Reuters, is handled primarily by nine non-profit organizations which receive funding from the federal government. They partner with and oversee hundreds of local centers across the country, most of which "help new arrivals with basic tasks like enrolling children in school, arranging doctors' visits and applying for Social Security cards and other documents."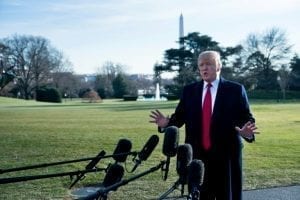 Even though resettlement agencies operate independently of the government, they're still required to garner approval for where to place new asylum-seekers within the United States.
The Trump administration's plan calls for the closure of any refugee resettlement office which processes fewer than 100 cases per year. Dozens of offices – out of an estimated 300 nationwide – could be adversely affected by the decision.
The oddball move seems to run counter to the president's rhetoric on refugees. While largely opposed to accepting increased numbers of asylum-seekers, Trump still claims to want those who are here to integrate into American society quickly.
From 2018 onward, fewer refugees will be permitted entry to the United States than under the Obama administration. Under the guidance of then-commander-in-chief Barack Obama, resettlement was permitted for some 100,000 refugees each year.
Under Trump, that number has been cut in half.
If refugees lose access to "services to help them navigate the processes of registering for school, and English classes and finding a job, that will mean that it will take longer for them to navigate life in the United States and contribute to our economy," said Robert Carey, who directed the Office of Refugee Resettlement under former President Obama.
The State Department rationalized its decision as one to cut costs and improve upon a purportedly broken system. A spokesperson said they were looking to "reduce costs and simplify management structures to help the U.S. Refugee Admissions Program run in a way that is fiscally responsible and sustainable."
"These organizations have to adapt when their services are no longer needed as much," said Jessica Vaughan, director of policy studies at the Center for Immigration Studies. "There is no reason to keep funneling money to them."
Sources
Exclusive: State Department tells refugee agencies to downsize U.S. operations
US State Department to cut refugee aid agencies: report
Join the Discussion