Career criminals are constant and compulsive risk takers.
---
Jairo Roman Napoles, 21 years old, was recently given a sentence of sixteen months after pleading guilty to stealing rings from Sydney-based ACEBEN Pawnbrokers on August 12.  The charges Napoles pleaded guilty to included "larceny of items worth $5000 to $15,000, common assault, stalk and intimidation, shoplifting and failing to appear in court."  He was also ordered to pay $11,850 in compensation to the pawn shop.
Napoles, who already had a lengthy criminal history which included 33 charges of assault, possession of a knife, fraud, and theft, had evidently visited the store "looking for chains and rings." A clerk showed him a tray of 15-20 items and he immediately lifted them.
Then, in a bold yet stupid move, Napoles showed up to Downing Centre Court just a week after he shoplifted for an unrelated fraud charge wearing the same stolen rings.  He was also wearing the same shoes and earrings in court that he was seen wearing the day of the crime.  Apparently he felt no one would notice, but of course, he was arrested on the spot.
Aquinas "Quinn" Kasbar, 19 years old and a busy teen criminal, knows not to hold onto stolen jewelry.  It's best to drop it at another pawn shop, getting rid of it right away for some cash.  Unfortunately for him, this is not a fail-safe plan.  In fact, stolen jewelry can often be tracked with serial numbers.  So, after the teen lifted a diamond ring from a residence in California and dropped it off, the owners immediately discovered it was not from his personal collection and passed the contact information Kasbar left to authorities.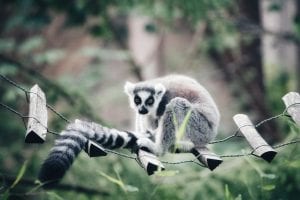 Of course, this wasn't before the adventurous teen had already committed a string of other crimes, which involved mainly residential break-ins and stolen jewelry which he re-sold for thousands.  However, the boy obviously has an infatuation with exotic animals, too, first taking a tortoise from a home.
"He took my little pet tortoise, a tortoise I'd had for ten years," its owner Claudia Schmutzler said. "He takes whatever he wants like it's his God-given right.  He's damn good at it and he'll do it again."
She was right.  Most recently, the teen took an endangered lemur from the Santa Ana Zoo.  Zookeepers noticed a large hole cut along the parameter of the animal's habitat and knew instantly something was wrong, reporting this to law enforcement.
In early December, agents were able to track down a jam-packed full storage unit registered in the teen's name.  Inside, they discovered a wealth of stolen goods, including rare items made from animals.  In addition to 22 guitars, they discovered sheepskin, snakeskin and horsehair jackets and four bags – two made from ostrich skin, one from crocodile skin, and one from calf skin.
When Kasbar was apprehended, he insisted he had only stolen the lemur because he wanted to keep him as a pet.  However, this was obviously questionable considering his exotic stash.  Who knows what he would have done if the creature wasn't led to safety and he was taken off the streets.
Sources:
Bondi thief arrested after wearing stolen jewelry in court
Is this Australia's DUMBEST crook? Thief arrested for stealing $15,000 worth of jewellery is thrown behind bars after wearing stolen items to COURT
Man Agrees To Plead Guilty To Stealing Endangered Lemur From Zoo To Be His Pet
Alleged Teen Jewel Thief Steals Beloved Lemur in Heist of the Century