Studying law is a challenging and rewarding undertaking. Modern media often shows only the glamorous side of the profession; herein, we pull back the curtain.
---
Movies and TV series depict lawyers as people who are always so well-dressed and poised even as they pull all-nighters to finish a case. In real life, though, it's not as glamorous as it seems. Sure, it's incredible to be able to help victims of injustice, but this career also takes a lot of hard work, dedication, and proficiency in time management to succeed. Here are a couple of things you should know before you commit to studying law:
You Must Choose a Specialization
Law is a broad field that encompasses both the public and private sectors. Most academic programs concentrate on core legal topics such as a general overview of the law and an introduction to the legal system during the first year of the curriculum. Later on, you must choose a particular field of law that you want to specialize in.
Some areas of specialization include:
Criminal Law – This field of law focuses on cases that threaten, harm, or endanger people's property, health, safety, and moral welfare.
Property Law – It governs the legal ins and outs of ownership and tenancy in real estate properties.
Intellectual Property Law – While property law is responsible for tangible assets, intellectual property pertains to copyrights or the protection of your intangible creations such as written works, music, and art.
Commercial Law – Also known as trade law, this specialization studies the legal system that is responsible for the rights, relations, and conduct of entities engaged in commerce, merchandising, and sales.
Environmental Law – Environmental law studies treaties, statutes, and regulations on human activity that has an impact on nature and its well-being.
Family Law – Attorneys for this area of specialization handle divorce and child custody cases.
International Law – This one has a broader scope since it studies the set of rules that make relations between countries stable and organized.
Aside from the topics mentioned above, you can also do an in-depth study of the rules concerning health care, insurance, estates, civil rights, and entertainment. Moreover, you can also specialize in a particular region or culture. Hofstra University offers an online master's program on American legal studies for you to become a U.S. Law expert without compromising your other life commitments.
Prepare for Lots of Readings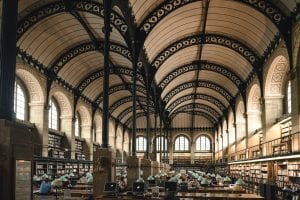 Time management is your number one tool to juggle all the responsibilities of a law student. As an aspiring attorney, you have to study the different laws that you need to take care of your clients and knowing what claims they're eligible to get, unlike this paralegal that reportedly posed as a lawyer and accepted payment for legal status adjustment applications that immigrants weren't qualified for.
Law schools mandate that you study hundreds of cases which include reviewing appellate court decisions, analyzing the judge's ruling, and deducing general legal principles. Most students need to read an average of 30 pages per credit hour which compounds to about 450 pages' worth of reading per week. Fast processing of complex information in just a few minutes improves thought time and practice which could be the reason why academic institutions want you to hone this particular skill.
A few time management tips to help you get through law school:
Improve Your Current Study Habits – Most students breeze through college without establishing decent study habits that are vital for law school. Evaluate the time you dedicate to studying every day and see if you are productive during those times or whether you get caught up in distractions such as your social media notifications.
Create a Study Plan – A study plan has two parts. One section focuses on the short-term to-dos like assignments that are due within the week, while the second is for the readings and projects that have a later deadline. This way, you can see what tasks you must prioritize at a glance.
Don't Forget to Rest – While it may seem that you should dedicate your entire life to studying, always remember that your brain needs to adequate rest for it to perform well when you need it the most. You can schedule a day for relaxation after exams to give your body time to recuperate.
A Degree Doesn't Guarantee a High-Paying Job 
The job market is cutthroat competitive nowadays. Underemployment is a real probability that law school graduates should be ready for. You may need to start out as a paralegal or as an intern just to get your foot in the door of your chosen field. It doesn't mean that you shouldn't pursue your dream of becoming a lawyer, but it's better to do your research and be aware of the factors that have a significant impact on your career.
Becoming a lawyer is not all glitz and glamour like in the movies. It takes hard work, determination, and dedication to the craft. There'll be lots of sleepless nights preparing for anxiety-inducing exams. Nonetheless, as long as you focus on your goal to become an attorney, you can overcome the challenges that you meet.