Victims say the Garlic Festival's organizers and security contractor didn't adopt sufficiently "modern" methods to mitigate the risk of a mass shooting.
---
Survivors of a July shooting at the Gilroy Garlic Festival in California are suing the event's organizers, saying the celebration lacked adequate security.
The Los Angeles Times reports that the suit was filed Tuesday morning by Randall Scarlett, an attorney representing several of the shooting's survivors. Lodged in Santa Clara County Superior Court, the complaint alleges that the Gilroy Garlic Festival Association—along with its security contractor, First Alarm Security and Inc.—should've prepared for a mass shooting, mitigating risk by boosting patrols and securing the festival ground's perimeter.
A 19-year old, Santino William Legan, is suspected of carrying out the shootings. While the FBI's yet to determine a motive, Legan appears to have been interesting in 'conflicting violent ideologies.'
Legan entered the Garlic Festival by way of a "flimsy" back fence, which he cut through. Armed with a semi-automatic rifle, Legan opened fire on festival attendees, killing three and injuring 13 others. He committed suicide as law enforcement closed in around him, guns blazing.
According to the lawsuit, the Gilroy Garlic Festival Association provided and approved an "outdated' contract with First Alarm Security. The contract, says the A.P., allegedly did not include provisions necessary for the mitigation of "modern-day risks," including mass shootings.
The garlic festival—an unlikely target in the minds of many—usually attracts upwards of 100,000 attendees in its three-day course.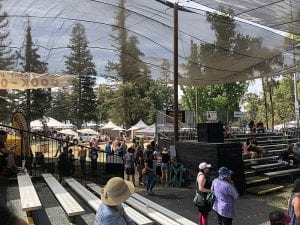 Scarlett says the festival's security was "grossly deficient," evidenced by Legan's ability access the festival grounds by crossing a creek and breaching a lackluster barrier characterized by the suit as an "inadequate, flimsy, low-height, unsupported chain link fence."
"The security we now see at professional sporting events, music concerts and nearly every other organized large-scale public event that occurs daily has been stepped up to reflect our current threats," the suit says.
Scarlett cited the 352 mass shootings that occurred this year and the 337 that took place in 2018 as evidence that festival organizers should've recognized the possibility of a massacre and taken measures to prevent one.
However, Scarlett notes that monitoring of less-transited, secluded areas on the festival's periphery was scarce to nonexistent.
 "They had an entire back area [that] had no monitoring whatsoever," Scarlett said. "What's the price you're willing to pay to say the risk to too great? Reasonable steps would have avoided this completely."
The Times reports that Scarlett and the survivors are seeking an unspecified amount in compensation, partly due to mounting medical bills for some.
One of the victims, Wendy Towner, says she, in fact, saw the shooter near the festival's edge. Trying to distract Legan from her children, she shouted—and was promptly shot, along with fellow plaintiff Francisco Aguilera.
Towner suffered a gunshot wound to her leg, while Aguilera was hit in an artery. As the two lay on the ground, Legan approached, asking if they were "okay."
"Had Wendy Towner uttered a word, it is certain the shooter would have shot them both dead," the lawsuit states.
Towner says she and her family have since been diagnosed with post-traumatic stress disorder.
"My son's scared of being out here," Towner said. "He's only three. To be honest with you, I myself have not returned to a big event yet. I haven't been able to bring myself to it."
Sources
Gilroy Garlic Festival shooting survivors sue organizers of the event