Tesla recently came under fire in another wrongful death lawsuit alleging negligence.
---
A wrongful death lawsuit was filed earlier this week by the family of Jeremy Banner, a Tesla Model X owner "who was killed in a collision when the car's autopilot was engaged." The suit was filed by Banner's family and names Tesla as the defendant. The family is currently seeking more than $15,000 in damages against the automaker.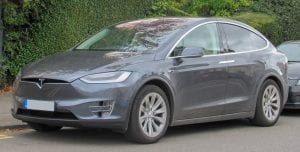 The collision that claimed Banner's life occurred back on March 1 when he was driving southbound on Highway 441 in Delray Beach. At the time, he was driving his 2018 Tesla Model 3 when the vehicle's autopilot became engaged, causing the vehicle to strike a tractor-trailer traveling eastbound. According to the suit, the collision "ripped the roof off the Model 3, killing Banner."
According to a preliminary report from the National Transportation Safety Board, Banner's autopilot was engaged about 10 seconds before the accident, "and the system did not detect the driver's hands on the wheel from less than 8 seconds before the crash." Additionally, the same report noted Banner's vehicle was "traveling about 68 mph before the collision, 13 mph over the posted limit." The investigation is still ongoing, though evidence collected from cameras near the scene show that neither Banner or the other driver attempted evasive maneuvers to avoid the collision.
However, Tesla's account of the collision differs from the report from the National Transportation Safety Board. According to the automaker, Banner's vehicle logs showed he "immediately removed his hands from the wheel." If that is truly what happened, it would mean Banner failed to "comply with the company's instructions that drivers keep their hands on the wheel while using autopilot."
When commenting on the pending suit, a lawyer for Banner's family said that "Tesla has video of the accident from the car's onboard cameras, but it's unclear if the family has been given access to that footage."
This isn't the first time an accident like this one has happened. In May 2016, a similar collision took the life of another Tesla driver, Joshua Brown. In that incident, Brown's "Model S collided with the side of a tractor-trailer, killing him."
So far the suit filed by Banner's family is the second one filed against Tesla this year. The first suit was filed by the family of Walter Huang and alleged Tesla was negligent in Huang's death. According to that suit, Huang's Model X "collided with a highway barrier while autopilot was active in Mountain View, California."
Sources:
Tesla sued for wrongful death after fatal crash involving Autopilot