The lawsuit claims that a Biden administration initiative to admit refugees from four Latin American countries is illegal.
---
Texas Attorney General Ken Paxton has filed a lawsuit against the Biden administration, alleging that an immigration program that would allow hundreds of thousands of asylum-seekers from Cuba, Haiti, Nicaragua, and Venezuela to entre the United States each and every year.
According to The Texas Tribune, the complaint was filed by Texas along with a coalition of about 20 other states.
"Every state in America, especially border states like Texas, is being crushed by the impacts of illegal immigration," Paxton said in a statement announcing the lawsuit.
"The Biden open borders agenda has created a humanitarian crisis that is increasing crime and violence in our streets, overwhelming local communities, and worsening the opioid crisis. This unlawful amnesty program, which will invite hundreds of thousands of aliens into the U.S. every year, will only make this immigration crisis drastically worse," Paxton said.
The Tribune notes that, last month, the Biden administration and the U.S. Department of Homeland Security announced an advance parole program that would allow 30,000 people per month to legally enter the United States, provided that they pass a background check and can prove that they have a sponsor or other financial support in the U.S.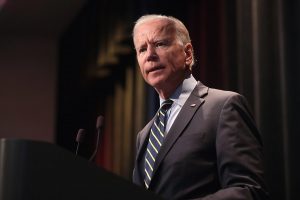 Once approved, immigrants can stay in the U.S. for up to two years and request work authorization.
After arrival, they can also seek asylum.
"​​The Department of Homeland Security (DHS or Department), under the false pretense of preventing aliens from unlawfully crossing the border between the ports of entry, has effectively created a new visa program—without the formalities of legislation from Congress—by announcing that it will permit up to 360,000 aliens annually from Cuba, Haiti, Nicaragua, and Venezuela to be 'paroled' into the United States for two years or longer and with eligibility for employment authorization," the lawsuit states.
The Texas Tribune notes that, while the Biden administration's plan might seem generous, it also affords the federal government the power to expel the same number of immigrants from those four countries if they enter, or attempt to enter, the United States illegally.
The Department of Homeland Security noted that the Mexican government has already agreed to accept up to 30,000 deportees from the four countries per month.
Nevertheless, Paxton and other conservative attorneys general claim that, while the parole program was modeled after a similar initiative that allowed Ukrainians to enter the United States following the Russian invasion in 2022, the most recent program does not meet the necessary criteria to be considered legal.
"The parole program established by the Department fails each of the law's three limiting factors," the lawsuit alleges. "It is not case-by-case, is not for urgent humanitarian reasons, and advances no significant public benefit."
Sources
Texas leads lawsuit against Biden administration's new immigration policy