Corpus Christi judge receives public reprimands for incidents of inappropriate behavior.
---
Former judge, Guy Williams of Corpus Christi, Texas, received two public reprimands after a de novo trial by the review court after he had been accused of "groping three women at a party, making disparaging remarks about prosecutors, and making a child custody ruling without a public hearing," according to court records.  Williams had asked the court to review the two reprimands he received in December from Texas' State Commission on Judicial Conduct.  Williams was a judge from 2011 to 2018.
Another judge who had attended an August 2017 social function, complained that Williams "slid his hand from the side of her body to her buttocks during a group photo."  She reported that Williams "literally grabbed and squeezed my butt," and when she complained, "he smiled and did it again."  Later that evening, Williams texted the judge the group photo and wrote: "Nice body for a 70-year-old."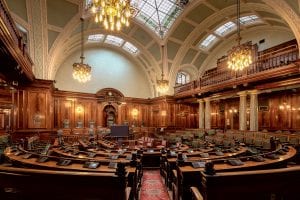 Two court clerks also complained that Williams touched them inappropriately at the same event.  Williams denied it.  Williams also allegedly made the remarks about the district attorney's office in two family violence cases in October 2014 and May 2015, reportedly stating that the DA's office "moves forward with prosecutions even when the victim wants to drop the case."
"Let me just say for the record that I know the prosecution doesn't really care what the victim wants," Williams said in the October 2014 hearing. "The district attorney's office manipulates and uses victims as to their advantage; that's my position on the record."
In the latter case, Williams said the DA "doesn't really care about your wishes.  I have no control over the district attorney's office."
The second reprimand the judge received was for a verbal order transferring custody of two children to their father even though the father had not filed any motions seeking custody, and Williams did not conduct a public hearing before making the decision.  The judge reportedly withdrew the order the following day, testifying he issued the order to "shock the two mothers of the children because he thought the mothers were alienating the children from their father."  He acknowledged that he was not aware that a verified pleading was required before he could remove children from custody.
The special review court's decision means that Williams will not be allowed to serve as a visiting judge, and he needs at least four months of work in this position to qualify for retirement benefits.  Williams is also facing a June trial on misdemeanor charges in an unrelated matter in which he was charged with public intoxication and resisting arrest after a vehicle he was a passenger in was involved in an accident.
In the custody matter, "We absolutely do not believe that Judge Williams' ruling violated his judicial canons or the Texas Constitution," Williams' attorneys said. The statement noted that a dissenting judge on the panel agreed.  They also said of the judge's alleged inappropriate touching and DA comments, "it is troubling that a lesser sanction such as a private reprimand or a public warning was not issued in place of a public reprimand."
Sources:
Reprimands upheld for ex-judge accused of groping women, disparaging prosecutors
Order: Former Judge Guy Williams' reprimands are valid for conduct off, on bench