Gig workers get fired, deaths on the rise and robots aiding drivers. LegalRideshare breaks it down.
---
Dying pedestrians, ditched scooters, and driver discrimination… It's all here in This Week in Rideshare. Read on!
MONDAY 2/27/23
Drivers strike at LaGuardia. CBS News reported:
Mohammed, a father of three, is one of thousands of drivers planning to go on strike at the airport.

"We're striking to get our raise back. TLC gave us a raise, and Uber blocked it, took TLC to the court and won the case," he said.

Drivers are demanding their full raise for operating costs, a stop to unfair driver deactivations, more for out-of-town trips and 85 percent of their fare or the full TLC rate.
TUESDAY 2/28/23
Uber and Lyft are more likely to deactivate drivers of color. Wired reported:
Jordan, who estimates that he earned between $8,000-$10,000 per month as an Uber driver, appealed to the company multiple times, frantically emailing to try and get his account reinstated, but was told that his deactivation was final. One customer alleged that Jordan had tried to hit her with his car. In response, he offered to send the company footage from his dashcam to prove the incident hadn't occurred. "But they weren't interested in that," he said.

Of the 810 drivers surveyed, 69 percent of non-white drivers said they had faced either permanent or temporary deactivation, as opposed to only 57 percent of white drivers. Drivers who didn't speak English or were not entirely proficient in English were also much more likely to have their accounts deactivated than those who speak the language fluently.
WEDNESDAY 3/1/23
Pedestrian deaths continue to rise. Automotive News adds:
Pedestrian deaths in the U.S. rose 5 percent in the first half of 2022, averaging 19 fatalities per day, according to an analysis by the Governors Highway Safety Association.

Drivers struck and killed 3,434 people in the first six months of 2022, an increase of 168 deaths from the same period a year earlier, the organization said in a report issued early Tuesday.

2021 already marked a 40-year high in pedestrian deaths.
THURSAY 3/2/23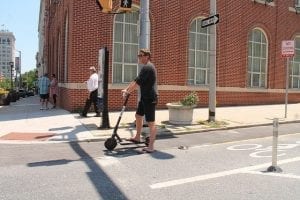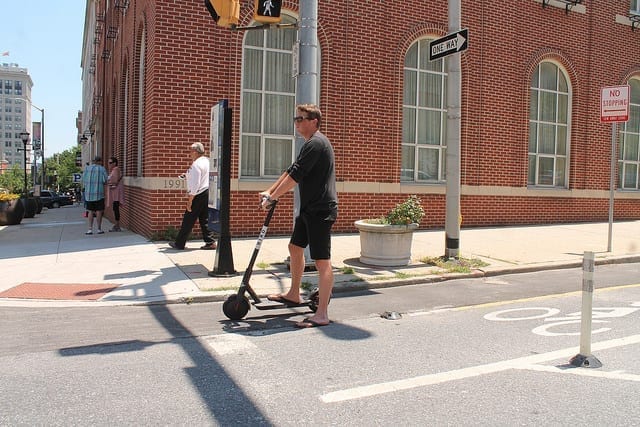 Discarded e-scooters are posing dangers. BBC reported:
Ms Gayton, a street access campaigner for the National Federation of the Blind of the UK (NFBUK), said on a visit to Newcastle earlier this month she found scooters creating "obstructions for any blind, visually impaired, older and disabled people".

She said she also experienced people riding them on pavements past her which was "frightening".

Neuron Mobility, the firm responsible for the scooters, said it worked with disability groups to "promote safer streets" and offered an "online riding school" for users.

A spokesman said riders were required to park at designated spots controlled by "geofencing" and scooters were fitted with "topple detection" to "alert our operations team if they have been left on their side".

He added that reports of bad parking were dealt with swiftly but it was impossible to "eliminate bad parking and riding entirely".
FRIDAY 3/3/23
Ford focuses on robots helping…not replacing drivers. Bloomberg reported:
Ford Motor Co. is forming a new unit to focus on semi-autonomous features and is hiring about one-quarter of the workers from its former self-driving affiliate Argo AI.

Ford and Volkswagen jettisoned Argo after determining it would take too long to realize a return on the billions they had invested in the self-driving startup. Ford took a $2.7 billion write-down on its investment last year. Argo had more than 2,000 workers as of July last year.

Argo's demise showed how attitudes about self-driving technology have swiftly changed. The idea of free-range robotaxis navigating congested cities now is seen as a distant dream.

Ford says Latitude will focus on near term-automated technology that assists human drivers, but doesn't replace them entirely with robots.
LegalReader thanks our friends at LegalRideshare for permission to share this news. The original is found here.
If you enjoy reading the news from LegalRideshare, you may enjoy their podcasts, also found on Apple Podcasts and most of other major platforms.