Tip Top Poultry recently issued a recall for certain restaurant-grade chicken products after a sample tested positive for listeria.
---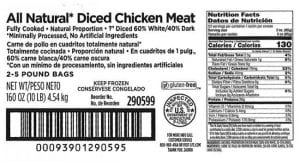 Earlier this week, more than 135,000 pounds of cooked chicken products were recalled after a sample tested positive for listeria. The affected products were sold in bulk to hotels and restaurants and were processed by Tip Top Poultry in Rockmart, GA.
According to the recall notice, the affected chicken was sold under a variety of brand names, including Tip Top, Gordon, Sysco and West Creek. The products were available in 10 and 30-pound packages and were not sold in grocery stores, according to the U.S. Department of Agriculture. The issue itself was discovered when the Canadian Food Inspection Agency tested a sample of one of the chicken products. That test returned a positive result for the dangerous bacteria. From there, the agency notified the U.S. Department of Agriculture.
Listeria is a dangerous bacteria that can make people extremely ill. Symptoms can range from fever and muscle aches to diarrhea, headaches, stiff neck, confusion, and even convulsions. The young, elderly, pregnant women and people with compromised immune systems are particularly vulnerable to the bacteria. In pregnant women, listeria may also cause stillbirths or miscarriages.
If you have any questions or concerns about the recall, contact Terry Bruce at 770-973-8070. Bruce is the senior vice president for operational quality at Tip Top Poultry.
Sources:
Recall: Cooked Chicken Tests Positive for Listeria
135,000 pounds of restaurant-grade chicken recalled after testing positive for listeria