No one can argue that the Takata airbag recall has been one of the biggest automotive safety disasters in recent history. It's certainly been the biggest automotive recall. Sadly, it's getting even bigger as Toyota recently announced that it's recalling another 601,000 vehicles in the U.S. in order to replace Takata airbag inflators. As you can see in the video above, under certain conditions, the inflators rupture and shoot shrapnel into the passenger cabin much like Claymore anti-personnel mines do on the battlefield.
The new recall was announced after Takata discovered another 3.3 million defective airbag inflators. As of today, over 280 people have been injured by the exploding inflators and there have been at least 20 deaths reported worldwide.
Toyota plans to contact affected owners by March and have dealers replace the front passenger airbag inflators or the full airbag assemblies, if necessary.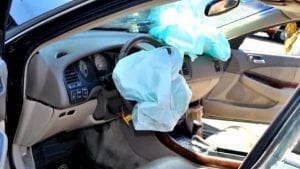 This latest recall includes the following models and model years:
Toyota Corolla – 2009, 2010, and 2013
Toyota Matrix – 2009, 2010, and 2013
Scion xB – 2009, 2010, and 2013
Lexus IS250 – 2009, 2010, and 2013
Lexus IS350 – 2009, 2010, and 2013
Lexus IS-F – 2009, 2010, and 2013
Toyota 4-Runner – 2010 and 2013
Lexus IS250C – 2010 and 2013
Lexus IS350C – 2010 and 2013
Lexus GX460 – 2010 and 2013
Toyota Yaris – 2009 and 2010
Lexus ES350 – 2009 and 2010
Toyota Sienna – 2013
Of course, the beleaguered Takata hasn't had much good news in the last couple years. Fines, lawsuits, a bankruptcy, difficulty producing enough new airbag inflators to complete the recalls… it all adds up.
If, for some reason, you're not aware of what happens with these potentially dangerous – even fatal – airbag inflators, allow me to explain. The faulty Takata airbag inflators containing ammonium nitrate are destabilized by repeated exposure to heat and humidity. When they fail, the inflators rupture, deploying the airbags regardless of whether there's been an accident. This, of course, results in the aforementioned explosion of shrapnel into the passenger cabin of the vehicle.
Legal Reader will continue to follow this story and report any new details as they arise.
Sources:
Join the Discussion