In his ruling ordering sanctions, Judge David Middlebrooks characterized the former president as a "prolific" and "sophisticated" litigant with a known reputation for abusing the judicial process for personal and political purposes.
---
A federal judge has sanctioned former President Donald Trump and his attorney, Alina Habba, for filing a frivolous lawsuit against Hillary Clinton and other persons involved in the Russia investigation.
According to ABC News, U.S. District Court Judge David Middlebrooks ordered Trump and Habba to pay fines totaling nearly $1 million.
In his ruling, Middlebrooks characterized the former U.S. president as "a prolific and sophisticated litigant who is repeatedly using the courts to seek revenge on political adversaries."
"He is the mastermind of strategic abuse of the judicial process, and he cannot be seen as a litigant blindly following the advice of a lawyer," Middlebrooks wrote in his opinion. "He knew full well the impact of his actions."
"As such, I find that sanctions should be imposed upon Mr. Trump and his lead counsel, Ms. Habba," Middlebrooks said.
As LegalReader.com has reported before, Trump filed a lawsuit against Hillary Clinton for allegedly "acting in concert" with the Federal Bureau of Investigation to investigate claims that Trump had colluded with Russia during the 201 U.S. presidential election.
Clinton, along with other Democratic leaders, had publicly alleged that Trump benefited from a Russian attempt to influence the election by propagating disinformation on social media platforms, including Facebook and Twitter.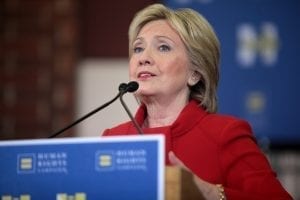 While Trump has long denied actively colluding with the Kremlin, he did—on several public occasions—seemingly encourage Vladimir Putin to continue providing adverse information on Clinton and his other political opponents.
Trump later filed a lawsuit against Clinton and several U.S. government officials, claiming that they conspired to tarnish his reputation during his campaign for the presidency.
ABC News notes that Judge Middlebrooks dismissed the initial lawsuit in September.
In his most recent order, Middlebrooks ordered Trump and Habba to pay an estimated $938,000 to 18 defendants in the case.
"A continuing pattern of misuse of the courts by Mr. Trump and his lawyers undermines the rule of law, portrays judges as partisans, and diverts resources from those who have suffered actual legal harm," Middlebrooks wrote.
Middlebrooks further admonished Habba, saying that she had engaged in "abusive litigation tactics" in her original lawsuit.
The judge also opined that Habba's amended, 186-page complaint was "drafted to advance political narrative; not to address legal harm caused by any Defendant."
"The Amended Complaint is a hodgepodge of disconnected, often immaterial events, followed by an implausible conclusion," Middlebrooks said. "This is a deliberate attempt to harass; to tell a story without regard to facts."
Middlebrooks issued an additional warning to Trump and his legal team, saying that they could face additional sanctions over a lawsuit they filed against New York Attorney General Letitia James.
James had earlier filed her own complaint against Trump and his family members, who her office believes defrauded lenders and insurance companies by grossly exaggerating the value of Trump Organized-owned properties.
Sources
Judge fines Trump and his attorney nearly $1 million for filing 'revenge' lawsuit against Hillary Clinton
Trump and lawyer ordered to pay $1m for bringing 'frivolous' lawsuit against Hillary Clinton
Trump and lawyer sanctioned almost $1 million for 'frivolous' lawsuit against Hillary Clinton