Along with signing off on a compromise to keep the federal government open, President Trump will declare a national emergency to fund his border wall.
---
President Donald Trump intends to sign a compromise border security measure to keep the federal government afloat for the remainder of this year.
The proposal, struck by a bipartisan group of lawmakers, provides significantly less funding for Trump's border wall than he'd initially hoped. However, that doesn't mean the commander-in-chief is willing to accept defeat.
According to Senate Majority leader Mitch McConnell, Trump plans to pass the funding plan and declare a state of national emergency. Trump believes doing the latter would enable him to circumvent Congress and channel money directly to the U.S.-Mexico border.
"He has indicated he is prepared to sign the bill. He will also be issuing a national emergency declaration at the same time," McConnell said Thursday. "I've indicated to him that I'm going to support the national emergency declaration. So for all of my colleagues, the President will sign the bill. We will be voting on it shortly."
McConnell's abrupt announcement, notes CNN, follows days of speculation. Politicians on neither side of the aisle knew whether Trump might change tactics and draw out another shutdown.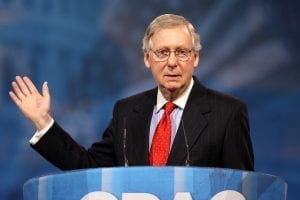 The last shutdown—which, at 35 days, was the longest in the U.S. history—was intended to pressure Democrats into providing about $6 billion for a border wall. The compromise announced by McConnell would earmark $1.4 billion for border barriers and additional beds in immigrant detention facilities.
POLITICO reports that the deal doesn't include the funds Trump wanted to hire 750 additional Border Patrol agents; it also ignores administration requests for 2,000 more Immigration and Customs Enforcement officers.
Democrats also emplaced some restrictions on the wall itself, saying it can't be built from concrete or use prototype designs that aren't already being used along the border. And funding can't be diverted to several locations, including the Santa Ana Wildlife Refuge, La Lomita Historical Park, Bentsen-Rio State Park and Vista del Mar Ranch.
The shove-and-take, says POLITICO, is indicative of Democrats' power in the House. In fact, the bill includes provisions that'd keep migrants thousands of migrants out of jail.
And Trump himself has signaled that he isn't "happy" with having to resort to emergency measures to begin on his long-promised border wall.
Constructing a bigger, better barrier along the U.S.-Mexico border was a major premise of Trump's 2016 campaign. His seeming inability to let go, coupled with a willingness to posit migrants as an existential threat to the United States, underpins his expected announcement.
"President Trump will sign the government funding bill, and as he stated before, he will also take other executive action—including a national emergency—to ensure we stop the national security and humanitarian crisis at the border," press secretary Sarah Sanders wrote in a statement. "The President is once again delivering on his promise to build the wall, protect the border, and secure our great country."
Sources
Funding bill includes new limits on Trump's immigration crackdown
McConnell says Trump will sign funding bill, declare a national emergency