A climate change lawsuit filed by two Pennsylvania boys against President Donald Trump was scrapped on Tuesday, the judge claiming courts can't set executive policy.
According to Reuters, the decision contradicts another made in Oregon. Nonetheless, U.S. District Judge Paul Diamond, based in Philadelphia, ruled there's no contradiction between environmental degradation and the U.S. Constitution.
Working with the Clean Air Council, the boys' petition claimed a due process right to a "life-sustaining climate system."
And Diamond was quick to write off the boys' concerns that their asthma and severe allergies are a result of White House policies.
The children, notes Reuters, are aged 7 and 11, respectively.
Diamond said his decision means the boys and Clean Air Council lack standing to sue President Trump, Energy Secretary Rick Perry and former Environmental Protection Agency administrator Scott Pruitt.
"Plaintiffs' disagreement with defendants is a policy debate best left to the political process," Diamond, a George W. Bush appointee, wrote. "Because I have neither the authority nor the inclination to assume control of the Executive Branch, I will grant defendants' motion."
Not content with discarding the litigation, Diamond went on to criticize U.S. District Judge Ann Aiken for her ruling in Juliana v. United States.
Aiken, presiding over part of Oregon's 'Climate Kids' lawsuit, found the case's young plaintiffs have "the right to a climate system capable of sustaining human ," with that right being "fundamental to free and ordered society."
Diamond, reports ClimateLiabilityNews.org, condemned the ruling for breaking precedent, suggesting that "the Juliana Court certainly contravened or ignored longstanding authority."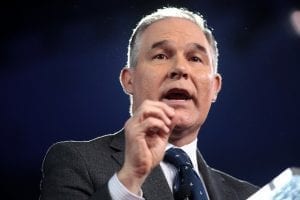 He also questioned what constitutes a stable climate, saying its definition could be "without apparent limit."
The Clean Air Council issued a statement voicing respectful disagreement and indicating a possible appeal.
"The Trump administration continues to rely on junk science to implement reckless climate change policies in the face of indisputable U.S. and international scientific consensus. For decades, the U.S. government has acknowledged that climate presents a clear and present danger to life, and represents an urgent and potentially irreversible threat to human societies and the planet," said Joseph Otis Minott, executive director and chief counsel for the group.
Trump made international waves in 2017 when he pulled the United States out of the Paris Accord on Climate Change.
While the accord wasn't legally binding, it set emissions and pollution-control objectives for signatory countries. President Trump has repeatedly claimed that climate change gives unfair advantages to America's economic rivals and has also suggested that the phenomenon may be a "Chinese hoax."
"We are troubled that the opinion states that the federal government 'do[es] not produce greenhouse gases' and that 'climate change is the creation of those that pollute the air, not the Government," Minott added. "These statements are both irrelevant to our claims and factually incorrect."
But Diamond's position seemed to steer clear of the broader climate debate, stressing that the judiciary cannot and should not write environmental policy.
"Plaintiffs seek to create an entirely new doctrine—investing the Federal Government with an affirmative duty to protect all land and resources within the United States," Diamond wrote. "The Juliana Court alone has recognized this new doctrine. Again, that Court's reasoning is less than persuasive."
Sources
Judge Tosses Penn. Case, Challenges Legal Merit of Kids Climate Cases
U.S. judge dismisses boys' lawsuit against Trump climate rollbacks