Despite the Trump administration's insistence on an immigrant-driven crime wave, the government has been arresting many migrants with no criminal record at all.
NBC News reports that the phenomenon has been picking up its pace in the past year. Even as the president draws attentions to atrocities like the killing of 20-year old Iowan Mollie Tibbets, Trump's enforcement agencies aren't netting an unusual amount of violent offenders.
"Unshackling ICE has really allowed it to go after more individuals," said Sarah Pierce, policy analyst with the Migration Policy Institute. She told NBC that the continued apprehension of noncriminal immigrants is "a defining characteristic of this administration's approach to immigration."
No matter what the Trump administration may say, its statistics tell a different story.
ICE arrests of noncriminal aliens, reports NBC, increased 66 percent through the first nine months of the 2018 fiscal year. Arrests of convicts and immigrants with criminal records rose, in contrast, by just 2 percent.
Deportations have disproportionately affected noncriminal migrants, including those who have or had permission to live and work in the United States.
In terms of percentages, expulsions of immigrants without criminal histories has skyrocketed—the rate is 174 percent higher in 2018 than it was last fiscal year.
Fiscal years, for the federal government, end in September and begin afresh on October 1st.
The result of Trump's low-tolerance approach to immigration has been overburdened immigration courts. NBC News cites the case of 45-year old Ruben Moroyoqui, a 45-year old mechanic from Tucson, AZ.
Moroyoqui only had one encounter with law enforcement, during a routine traffic stop. The second question the officer asked, after requesting to see his license, was whether Moroyoqui was in the United States legally.
Like many illegal immigrants, Moroyoqui had entered the country legally but overstayed his visa. He remained in the United States due to a lack of economic opportunities in his own country.
But Moroyoqui was promptly handed off from local law enforcement to the federal Immigration and Customs Enforcement agency.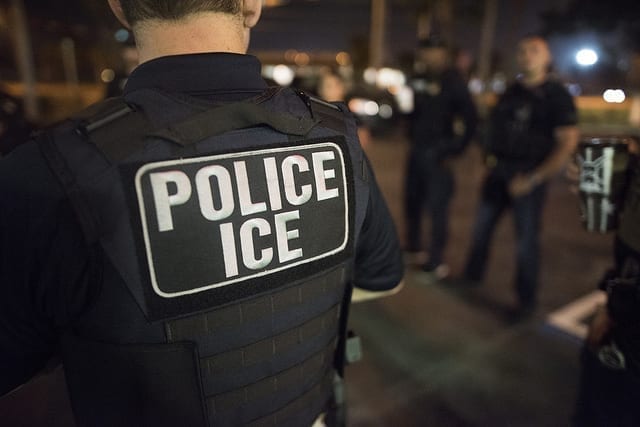 Other migrants interviewed or profiled by NBC tell similar stories: a Central American woman who'd been accused of riding public transportation without a ticket before being tased and turned over to ICE.
Conservatives have countered that focusing on why migrants are deported is missing the point—that simply being in the country without proper permission is reason enough to send an individual back across the border.
"Who decided that the policy of the United States was that anybody could come into the country regardless of the law as long as you didn't commit a violent felony?" asked Daniel Stein, president of the Federation for American Immigration Reform, a conservative group which supports restrictive immigration policies.
Stein says that many immigrants do commit crimes aside from illegal entry—they can range from serious offenses to securing employment with fraudulent documents. One way or another, Stein suggests that flouting the law makes a mockery of its intent.
But under the Obama administration—which was itself criticized for widespread deportations—ICE was directed to exercise active discretion in serving detainers. Special consideration was paid to parents who'd come to the United States illegally but raised citizen children.
NBC and the Associated Press's report come mere days after the administration announced it'd further curtail the annual cap on refugee admissions. That decision, too, has been condemned by immigration advocates as further evidence of Washington's war on immigrants.
Sources
ICE arresting more non-criminal undocumented immigrants