President Donald Trump hasn't been on DACA, Dreamers or illegal immigrants. During his stay in the White House, he's also worked to block mounting legal immigration–until Tuesday, when he pulled yet another switcheroo.
---
President Donald Trump spent Wednesday shoring up his stance on immigration.
During his State of the Union address one day earlier, Trump signaled that he wants to boost legal immigration to the United States. The suggestion seems at odds with his past rhetoric: along with vowing to build a wall along the southern border, the White House has moved against other classes of authorized aliens.
Speaking to a group of reporters on Wednesday, Trump said the nation needs more labor to keep industry afloat.
"I need people coming in because we need people to run the factories and plants and companies that are moving back in," Trump said. "We need people."
But, as USA Today notes, the commander-in-chief hasn't been accommodating of legal immigration. His administration has granted fewer visas, turned away refugees and revoked residency for hundreds of thousands of people who moved to the U.S. after fleeing persecution or natural disaster overseas.
Trump's apparent change of heart doesn't appear to have been planned—the president's State of the Union script didn't outline a plan for pushing immigration upward.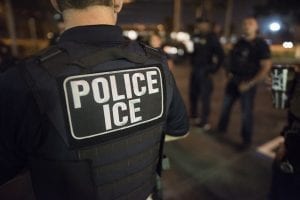 Asked Wednesday whether the ad-lib constitutes a policy change, Trump said, "Yes, because we need people in or country because our unemployment numbers are so low, and we have massive numbers of companies coming back into our country."
USA Today reports that Trump's made similar remarks in the past, saying he supports legal immigration as a supplement to the native workforce.
"We really need people, but it has to be through a legal process and a process really of merit," Trump said last week. "But we do want people coming into our country. They have to come in legally."
Several conservative groups seemed blindsided by Trump's mention not just of encouraging legal immigration but of boosting annual intakes. Ira Mehlman, spokesperson for the Federation for American Immigration Reform, called the president's proposal "bad public policy."
"Coming to the United States legally matters, but so does the number of people coming to the United States," Mehlman said. "Mass immigration, legal or illegal, undermines the jobs and wages of many Americans, overburdens vital social institutions and the social safety net. The president seems to be ignoring the impact of excessive immigration on American society."
But if the president's past comments are anything to go by—and it's sometimes hard to tell with Trump—new visa issuances would prefer skilled workers less likely to be a drain on America's welfare system.
The U.S. Chamber of Commerce applauded Trump's policy shift, saying more migrants mean better business.
"This is a welcome development, as businesses across many industries have conveyed to us that they are unable to meet their workforce needs," said Jon Baselice, director of immigration policy for the chamber. "We look forward to working with Congress and the Trump administration to enact commonsense immigration reforms that meet the economic and workforce needs of the American business community."
Sources
Trump now says he wants more legal immigration
'We need people': Donald Trump says he wants to see more legal immigration in U.S.