DeWALT and the Consumer Product Safety Commission recently decided to recall more than 100,000 drills after receiving consumer complaints involving potential shock hazards.
---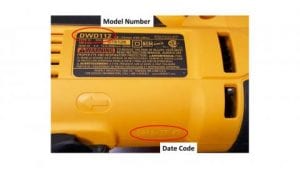 If you have tools in your home, chances are you have some sort of drill. If so, this recall notice is for you. Earlier this week, the Consumer Product Safety Commission (CPSC) and DeWALT issued a recall of certain drills after receiving reports that the "wiring inside the drill can come in contact with the moving parts and could pose a shock hazard."
According to the recall notice, the affected drills include two different models, including the following:
DeWALT DWD110, UPC 885911037518
DeWALT DWD112, UPC 885911057319
To better identify whether your drill is included in the recall, check a few details listed in the notice. For example, the drills have "date code 2017-37-FY through 2018-22-FY." Additionally, the drills were sold nationwide at Lowes, Amazon, Home Depot, and other retailers between September 2017 and November 2018 for $60 to $70.
If you have one of the recalled drills, you should discontinue using them immediately and contact DeWALT for a free inspection and repair. If you have additional questions or concerns about the recall, you can call DeWALT at 855-752-5259 or email the company at recall@sbdinc.com.
Sources:
Recall alert: DeWALT recalls drills over shock hazard