The Trump administration is proposing changes to insurance that may increase the out-of-pocket cost of some brand-name drugs. This would mean that patients who are unwilling to opt for generics will pay more for their prescriptions.
---
A new proposal from the Trump administration to be published in the Federal Register would apply to insurance plans available via the Affordable Care Act and make brand-name prescription drugs more expensive to those who choose to use them despite the availability of less expensive alternative or generic drugs.
Under the new proposal, insurance companies would not have to count the full amount of a patient's co-payment for a brand-name drug toward the annual limit on cost-sharing offered by the person's plan.  Instead, these companies would have to count only the smaller amount that would be charged for the drug's generic version.  This would mean consumers have to spend more of their money before reaching the annual limit allotted for out-of-pocket costs.
What's more, insurance companies would not have to count the value of coupons and other cost reduction assistance provided to by drug manufacturers if generic alternatives were available.  The proposal has prompted protests from groups representing patients who allege it goes against Trump's repeated promises to reduce pharmaceutical costs and lower out-of-pocket fees.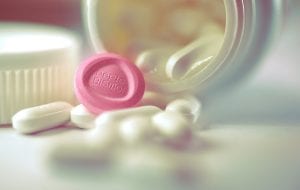 "The availability of a coupon may cause physicians and beneficiaries to choose an expensive brand-name drug when a less expensive and equally effective generic or other alternative is available," the Trump administration said. "When consumers are relieved of co-payment obligations, manufacturers are relieved of a market constraint on drug prices."  It added, "coupons can add significant long-term costs to the health care system that may outweigh the short-term benefits."
Bari Talente, an executive vice president of the National Multiple Sclerosis Society, said, "Many people with M.S. rely on co-pay assistance, even for generic medications."  She added that generic drugs are available for Copaxone, but one of these still costs $60,000 to $65,000 a year.  This is especially difficult to manage if buying incentives aren't included.
Carl E. Schmid II, the deputy executive director of the AIDS Institute is worried the proposal could increase out-of-pocket costs to $3,500 a year or more for a drug to treat H.I.V.  He said, "That increases the likelihood that people won't pick up their drugs, won't take their drugs."
Leyla Mansour-Cole, the policy director of the Diabetes Patient Advocacy Coalition said the proposed legislation has certainly "caused trepidation" for some patients.  She said, "In theory, co-pay coupons could encourage people to take higher-priced drugs.  In reality, people use them to get the medicines that their doctors prescribe, despite astronomically high deductibles."
The legislation will increase costs in other ways, too.  Fewer people would qualify for federal subsidies and there will be a small increase in out-of-pocket costs, in general, which include co-payments and deductibles for patient care services including primary care visits and hospital stays.
The administration defended the rule by citing it would reduce federal spending and the need to collect taxes in the future.  "However," it added, "the increased number of uninsured may increase federal and state uncompensated care costs."
Senator Ron Wyden of Oregon, the senior Democrat on the Finance Committee, described this push toward generic drugs as "Trump's latest attempt to sabotage health care."
Sources:
Trump Proposals Could Increase Health Costs for Consumers