After receiving consumer complaints about potential product contamination, Tyson Foods is recalling certain frozen chicken patty products.
---
Tyson Foods is recalling about 39,078 pounds of frozen chicken patty products over concerns they may have been contaminated with extraneous materials, according to the U.S. Department of Agriculture. The recall includes the company's Weaver brand of "frozen fully-cooked chicken patties produced on Jan. 31." The potential issue was discovered after the USDA's Food Safety and Inspection Service (FSIS) received complaints from consumers. An emailed statement from Tyson Foods said, "the material involved was pieces from a mechanical seal or gasket."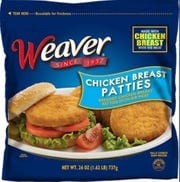 According to the notice, the affected products were "sold in 26-ounce resealable bags" and have a Use-by date of January 31, 2020. Additionally, the chicken products have 'P-13456' printed on the back of the packages and were shipped to the following states:
Missouri
Massachusetts
Connecticut
New Hampshire
New York
Vermont
Ohio
Pennsylvania
Texas
Virginia
When commenting on the recall, the agency said consumers who may have the affected products in their homes should either throw them away or return them to the place of purchase for a full refund. If consumers ate the products and are worried about falling ill, they should contact a healthcare provider.
This isn't the first time Tyson Foods has recalled a product in recent months. Earlier this summer in June, the company recalled more than 190,000 pounds of chicken fritter products when consumers allegedly found hard chunks of plastic in the product.
Sources:
Tyson Foods recalls chicken patties possibly contaminated with 'foreign matter'
Tyson recalls chicken breast patties after complaints of "extraneous matter"