U.S. software is helping Russian officials detain anti-war advocates.
---
A recent report found, in 2,000 Russian court cases, U.S.-based facial recognition technology was used by the Russian government to crack down on anti-war protests, leading to arrests. According to the report, Moscow court records confirmed that the city's extensive video surveillance network "played an important role in the arrests of hundreds of protesters."
The report indicates that multiple Russian companies, and one Belarusian company, are using algorithms trained and powered by hardware from U.S. companies like Intel and Nvidia. One company received $40,000 in prize money from a U.S. intelligence agency for participating in the initial test program. The Russian companies that use the software are NtechLab, VisonLabs, and Tevian – all based in Moscow.
In 2017, there were 160,000 such cameras throughout the city with more than 3,000 connected to facial recognition systems, according to Moscow's Department of Information Technologies. Court records indicate that the cameras were primarily used to detain people during the 2021 anti-government protests but are now being used to identify, intimidate, and detain anti-war activists and dissenters of Russia's invasion of Ukraine via law enforcement arrests.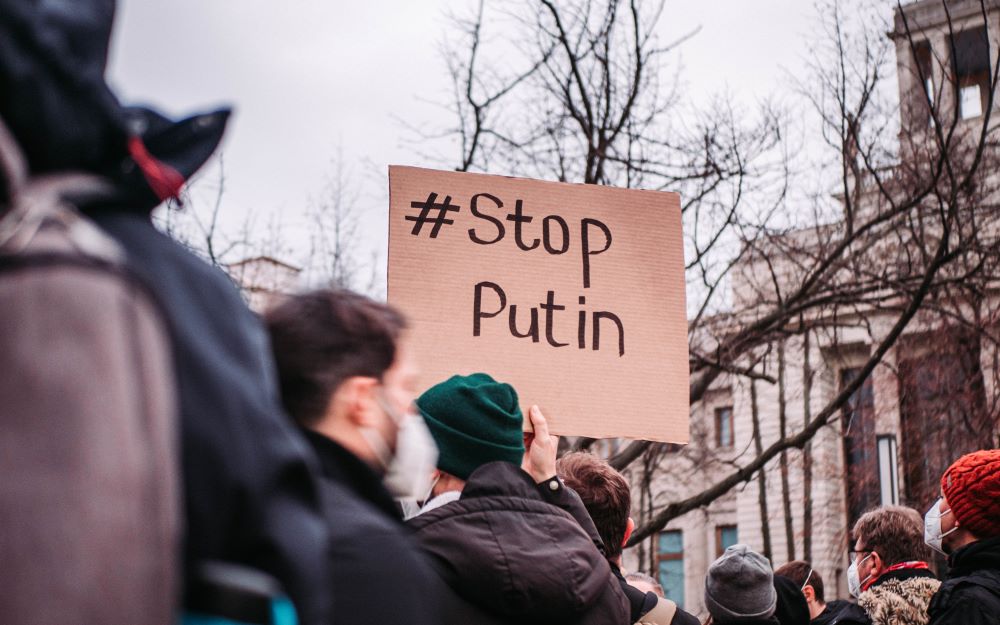 In early March of 2022, a week after Russia launched the invasion of Ukraine, President Putin outlawed public criticism of the war. This makes protesting dangerous, and many activists have found themselves rounded up and sent to the front lines or to prison.
The Reuters report highlights the case of Andrey Chernyshov, a 51-year-old bank worker, who spent more than seven hours in police custody due to his political activism – holding up signs near a water fountain that said, "Peace to Ukraine," "No War," and "Freedom for Russia." He was detained by police in a Moscow metro station last May and was informed he "was on a wanted list and, without further explanation, escorted him to a police office inside the station."
Chernyshov was detained a second time on his way home by a man who identified himself as an official from Russia's Centre for Combating Extremism (Centre E) and questioned about his views on Putin and the war in Ukraine. The plain-clothes official reminded Chernyshov that he had a young child at home to care for, evidently a round-about way to intimidate him into remaining silent.
Chernyshov himself said he took this as a threat to the well-being of himself and his child, and he has since been detained several more times.
While this is troubling, and U.S. technology is aiding in the crackdown of protests and intimidation of protesters, no one is suggesting "that Nvidia or Intel have breached sanctions." Though both companies have halted shipments of technology to Russia since trade restrictions tightened, per Reuters.
The use of facial recognition technology for surveillance purposes has sparked debate around the world regarding the balance between privacy and security. Some argue that it is necessary to use such technology to prevent crime and protect public safety, while others are concerned about the potential abuse of power and infringement of individuals' rights.
It is important to note that the use of facial recognition technology is regulated by laws and regulations in different countries, and there are ongoing discussions about how to strike a balance between privacy and security concerns. As with any new technology, it is crucial to have transparent and accountable governance mechanisms in place to ensure that it is used ethically and responsibly.
Sources:
Russia uses facial recognition technology from US companies to spy on anti-war protestors, says report
U.S. Hardware Is Fueling Russia's Facial Recognition Crackdown on Anti-War Dissidents
Facial recognition is helping Putin curb dissent with the aid of U.S. tech