Two employees of Urban One recently filed a lawsuit against the company over allegations of sexual harassment and gender discrimination.
---
Urban One, the entity that represents Hot 107.9, an Atlanta hip-hop station, recently found itself the target of a lawsuit accusing it of gender discrimination and sexual harassment. Additionally, the suit, which was filed by Desiree Lucas and Dominique Hinton, also alleges the company failed to pay them properly for overtime.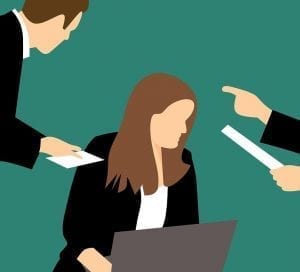 According to the lawsuit, the two women were allegedly victims of sexual harassment at the hands of former Radio One Atlanta vice president of programming 'Hurricane' Dave Smith. Smith was terminated from the station last August over a separate incident involving sexual assault allegations filed by former on-air personality Shorty Mack. 
Lucas and Hinton first joined the station back in 2012. While Lucas worked as a production assistant, Hinton was hired as a production assistant and board operator. They were responsible for "assigning commercials to on-air personalities, assisting guests on the radio shows and ensuring commercials play and shows come back on time." Both women worked as hourly employees and alleged in their suit that even though they worked overtime on a frequent basis, they "did not receive overtime pay of time and a half." As hourly employees, Lucas makes $12.82 an hour, the same rate she started at when she joined the station. Until she was fired in 2018, Hinton was paid between $10 and $12.32 an hour during the eight-year span she worked for the station.
According to the suit, which was filed in the United States District Court in the Northern District of Georgia, the two women believed male employees in similar roles were being paid more. Additionally, the lawsuit goes into detail about Smith's alleged behavior. For example, he would "make comments about the appearance of Hinton." Some of the comments included the following:
"What's your favorite sex position?"
"I think about you. Do you think about me?"
"I think about you when I'm having sex with my wife."
"If you scratch my back, I'll scratch yours."
Hinton rejected his advances and as a result, Smith "began gradually reducing Hinton's hours, giving her less work and therefore less income." Fed up, she alerted HR about the harassment and an investigation was conducted that resulted in Smith being suspended. However, during the time he was supposed to be suspended, he went on "Tom Joyner's 'Fantastic Voyage' luxury cruise during that time." 
Weeks later, she was fired because management claimed she "uploaded an incorrect file for the Rickey Smiley Morning Show but she believes files were altered while she was out of the office." The suit further states, "Smith and Urban One terminated Ms. Hinton in retaliation for her denying Smith's sexual advances and for her reporting Smith's sexual harassment."
Lucas experienced similar harassment. According to the suit, Smith used some of the same lines on her as he did with Hinton, including the 'If you scratch my back, I'll scratch yours.' To make matters worse, when she told Smith she was married, he allegedly told her, "Everyone cheats." He continued to make sexual comments about her, and even though Lucas reported the behavior to management, nothing was done to stop it. Later on, she claims Smith retaliated against her prior to his termination "by fabricating a story about her cursing in a break room and pressed Lucas' direct manager to put her on a final warning." 
When responding to the lawsuit, Urban One said it was aware it had been filed.
Sources:
Two former Hot 107.9 employees file lawsuit regarding wages, gender, discrimination, sexual harassment claims 
Urban One Faces Lawsuit Over Wages, Gender Discrimination & Sexual Harassment