While the USCIS says it's just trying to save the federal government money, critics say the move will slow down an already-overburdened immigration system.
---
U.S. Citizenship and Immigration Services is seeking to cut costs by closing down all of its international field offices.
Critics, report National Public Radio, say the move will slow down refugee processing, family reunification petitions and military citizenship applications.
Agency spokeswoman Jessica Collins said the USCIS is in "preliminary discussions" to delegate overseas affairs to the State Department. Many of the office's extant responsibilities would be absorbed by American embassies and consulates abroad.
"The goal of any such shift would be to maximize USCIS resources that could then be reallocated, in part, to backlog reduction," Collins told NPR in an e-mailed statement.
POLITICO notes that the move is in line with several of the Trump administration's goals. Since assuming office, the president has directed federal agencies and appendages to cut operating costs and reduce procedural regulations. He's also taken a notoriously harsh stance on immigration—one of his first acts in office was signing an executive order to limit travel from several Muslim-majority countries.
But President Trump's take on terror and illegal immigration aren't alone. His cuts and guidelines have accompanied a paring down of the United States' legal immigration system, including efforts to stymie refugee intakes and H-1B visa renewals.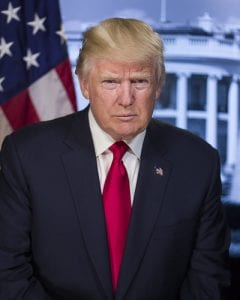 Right now, the USCIS's naturalization backlog stands at 738,148 cases—a 16% increase over pre-Trump levels.
According to POLITICO, the agency maintains a total of 23 field offices around the world, scattered between Latin America, the Caribbean, Europe, Africa and Asia. The USCIS recently closed a branch in Cuba and plans to terminate Moscow operations by the end of the month.
The U.S. Citizenship and Immigration Service's overseas employees "are responsible for adjudicating a wide variety of petitions and applications filed internationally, providing information services, and issuing travel documents to people in a wide variety of circumstances."
Other duties, writes POLITICO, including assisting U.S. citizens seeking to bring family members to the United States. They also evaluate asylum claims and facilitate citizens seeking to adopt children abroad.
Collins claims the impact of closures will be limited, telling NPR that the transition will be coordinated with the Departments of Homeland Security and State "to ensure no interruption in the provision of immigration services to affected applicants and petitioners."
Furthermore, Collins says the United States' refugee program won't be affected, since refugee interviews are typically conducted by staff who "travel the world."
However, immigration advocates and analysts have voiced skepticism. Sarah Pierce, policy analyst at the Migration Policy Institute, told NPR that the plan could exacerbate growing backlogs and contribute to a "processing bottleneck."
"It's yet another step that USCIS has taken that slows the processing of refugee applications and will slow customer service in general," Pierce said, adding that more strain on the U.S. refugee system could prompt further calls to scale back its scope.
Sources
Trump Administration Seeks To Close International Immigration Offices